HAND MADE CARD ~
Card Ideas Using a Heart Punch
Hand made card - you can create beautiful, personalized greeting cards using various punches and an assortment of embellishments.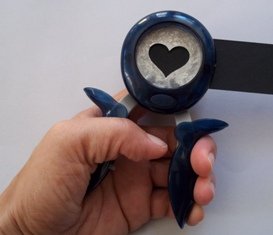 When looking for a heart punch, I try to find one that I can use all year long and is versatile. I also like ones that are not trendy but one that has a classic shape and is symmetrical.
You can buy a bigger heart but if you're looking to use it as an embellishment, a small one will suit this purpose. A small heart punch is great for using as an embellishment when I can't find one to match the colors on my card.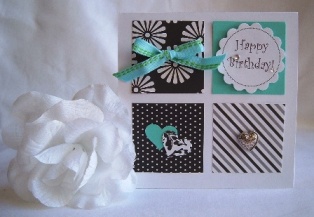 I generally don't throw away any of my scraps just so I can use my small punches on them. For this hand made card idea, I didn't have an embellishment for the last square so I chose to use my heart punch and incorporated one of the coordinating prints and colors.
You can create a heart chain and add a cool feature on your handmade card. I threaded silver beads through black ribbon and taped the hearts in between the beads.

Because the hearts are symmetrical, you can create the chain vertically or horizontally on your homemade card.
I had a coordinating pack of paper so I punched out a heart from two of the prints and one from a solid color.
Click here for instructions. If you don't have coordinated paper, using a small punch for your card ideas helps tie all the colors together.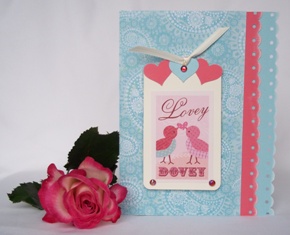 For this Valentines card, I started with the lovey dovey bird image and incorporated the colors for the background and scallop borders.
Click here for instructions. I didn't have an embellishment for the top of my tag and I didn't want to run to the store to purchase one so I grabbed my heart punch and used the pink and blue colors to tie everything together.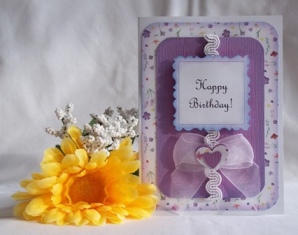 You can layer your heart punches to give it some depth. Again, use the same prints and solids on your card so the hearts tie everything together. I didn't have an embellishment to place in front of the ribbon so I punched out two small hearts and a very small heart to place in the middle.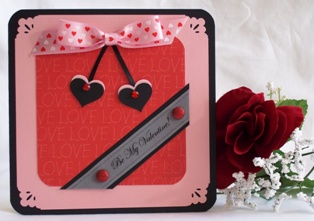 For this handmade Valentines card, I created a card using an existing design but needed just a little something below the bow because I thought it was too boring. I layered a couple of hearts and taped them to a narrow ribbon and added stick-on gems.
Click here for instructions.

Small punches have some great uses and these are just a few ideas to help get you started on your card making.



Click here for more hand made card ideas

Back to Home Page