Homemade Halloween Cards
I like to make homemade Halloween cards that are more fun or cute than scary.  Halloween is the time of year when ghosts, bats and pumpkins are all around us. I love making Halloween cards because of the bright colors and fun images you can use.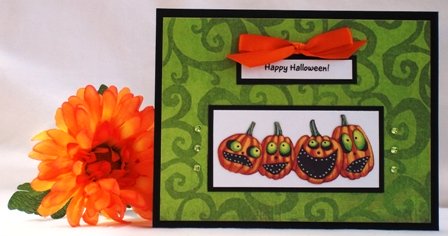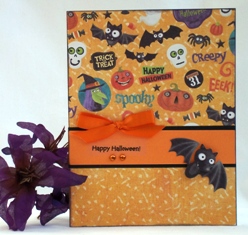 Go to orange Halloween card idea
Here is a Halloween card where I've combined two paper prints and added a dimensional sticker of a bat.  Black is always a good complimentary color and you can't go wrong with the color black when it comes to Halloween cards.
more homemade halloween cards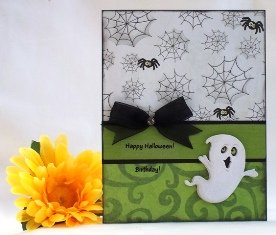 Here's a Halloween birthday card using feature a white ghost and spider patterned paper. This card layout works well for homemade Halloween cards or cards for other occasions.
For my Halloween card craft, I used a spider web print for the top portion and a green print for the bottom. I divided both prints with a green and black strip of solid paper.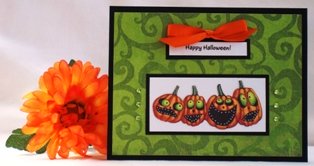 Here's a Happy Halloween Card that's pretty simple. I started with a blank black card and then placed green pattern paper over it. I like using blank cards for my homemade halloween cards because it makes assembling my cards faster.
Go to handmade card I then took a die-cut image of a row of pumkins and taped it over white paper and then taped it over black paper. I printed the sentiment on light cardstock paper on my computer and placed it over a small black piece of paper.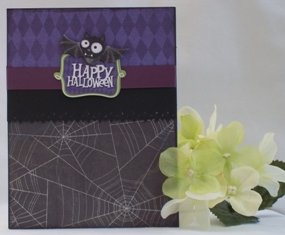 There are so many paper prints to choose from to make cards for Halloween. I found a paper stack that coordinated with my stickers and that's how I was able to come up with this card making idea.
Go to Halloween card idea It's hard to see but I used a zigzag border punch on the black paper strip and added a strip of purple satin ribbon.


Here's another idea to make unique Halloween cards. This card was inspired by cards I had made for other occasions so I thought it would work well for a Halloween card.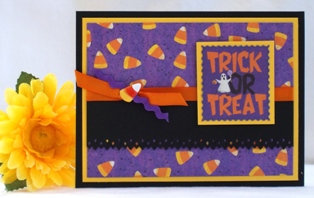 Go to Halloween card making idea
I loved the spider border print on this Halloween paper that I found in my paper stack. Scrapbooking and card making share most of the same supplies so you can take remnants of your scrapbooking materials to make some great handmade greeting cards. If you have a spider metal craft die, you can make your own spiders and customize the spider color to coordinate with your card.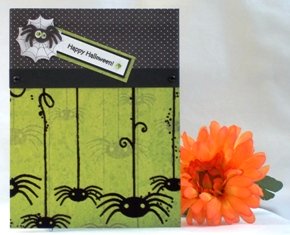 Go to Halloween card crafting idea
---
Go to homemade Halloween card ideas
For this handmade Halloween card, I used one of the existing templates and then deleted the vampire image that was included in the design.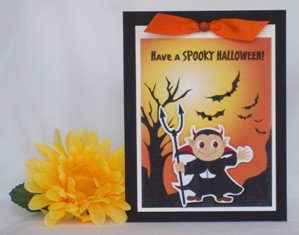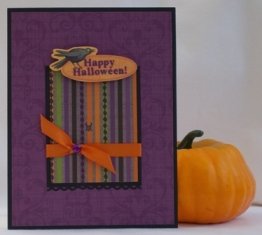 Go to Halloween greeting card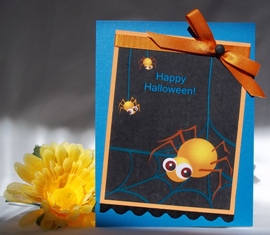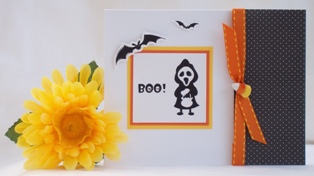 Go to Halloween cards handmade
For Halloween card ideas, try buttons for embellishments. These candy corn accents are actually buttons and I used a wire cutter to cut the shank on the back of the button.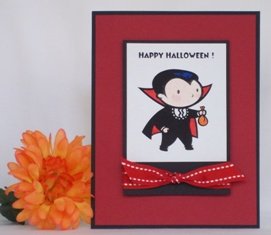 Go to homemade Halloween cards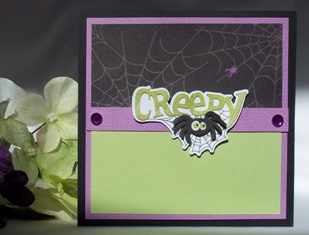 Halloween card ideas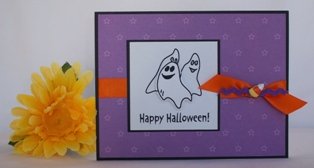 Click here for cute Halloween card idea