Card Making Ideas
Card making ideas – handmade papercraft designs for making birthday cards, invitations, Easter, Valentines, Mothers Day, Christmas and more.
Greeting card ideas come in many forms. You can come up with handmade card ideas and be inspired by sketches, books and the world wide web. You'll find many examples of handmade cards on this site. Making greeting cards is a benefit. It reduces stress, saves money and you also have fun!
Card making is not only fun, but there are so many other reasons to make greeting cards. I'll help you with Christmas card ideas, and inspire you in making birthday cards. I'll show you a few photo card ideas.
I'll share my card making ideas to make your own invitations like baby shower invitations, thank you and other cards along with step-by-step instructions.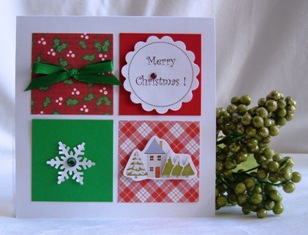 You'll find a variety of ideas using dimensional stickers, glitter, beads, stamps, buttons, border scissors and punches. I love using my punch to create tons of different designs. Printing from my laser printer to create the sentiment allows me to personalize the cards.
I hate wasting scrapbook paper so I always try to come up with ideas to use up those little pieces of paper I just can't seem to throw away. So please peruse through the site since a lot of designs use leftover material.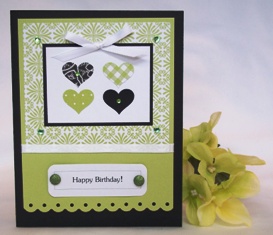 ---
If you're like me and need a creative outlet, cardmaking is a perfect hobby but here are some other Reasons To Make Cards:
5 REASONS TO MAKE CARDS:
It can benefit your health. It's a stress reliever and is sometimes used as therapy. As with reading, it helps with insomnia. And in some cases, it's helped with restless leg syndrome.

It can benefit your wallet. A family purchases an average of 30 cards per year. If an average cost of a greeting card is $2 - $4, then that's $60-$120 a year (or if you're like me and love shoes, that's about 2-3 pairs). So... making birthday cards, handmade wedding, baby and holiday cards doesn't sound like such a bad idea after all.

It makes people happy and you can express your feelings in your unique design and message. Personalized cards tell people you appreciate them and shows you have put in the time and effort. Custom made cards are treasured mementos and are usually kept for quite some time.

Since kids benefit from crafting, sharing your skills of card making to your kids helps keep the tradition of card crafting alive, so keep the tradition going.

And in a small way, if you recycle greeting cards, it can help the environment. Everybody is getting on the "green" bandwagon and even recycling just one greeting card and in turn, making trash to treasure, will help in making the world a greener planet.

---
But if you're like me and just like card making for the sheer fun of it, then please follow me to my corner of the world as I update this website with fun card ideas for handmade Christmas cards, homemade Valentine cards and designs for making birthday cards.
You'll find designs for graduation greeting cards, handmade wedding cards and Mothers Day cards.
We can't forget Fathers Day cards to make and Halloween greeting cards. I'll show you my homemade card ideas and templates for these as well. Card making ideas are endless an I hope you enjoy what this site has to offer.
ENJOY!
---
CARD MAKING IDEAS FOR BIRTHDAYS (click images)
| | | |
| --- | --- | --- |
| | | |
| Card Ideas for Birthdays | More Birthday Designs | Birthday Cards to Make |
---
CARD MAKING IDEAS FOR A BABY SHOWER (click images)
| | | |
| --- | --- | --- |
| | | |
| Idea with a Bug | Idea with a Baby Bottle | Idea with a Stork |
HOMEMADE CARD IDEAS FOR MOTHERS DAY (click images)
| | | |
| --- | --- | --- |
| | | |
| Peach Mothers Day Card | Floral Mothers Day Card | Polka Dot Mothers Day Card |
---
MORE GREETING CARD IDEAS (click images)
| | | |
| --- | --- | --- |
| | | |
| Card Ideas for Valentines' Day | Card Ideas Using Craft Punches | Card Ideas Using Circle Craft Punches |
HOMEMADE CARD IDEAS FOR GRADUATION (click images)
| | | |
| --- | --- | --- |
| | | |
| Blue Black Card | Blue Green Stripe Card | Pink and White Card |
---
GREETING CARDS for FATHERS DAY (click images)
| | | |
| --- | --- | --- |
| | | |
| Trophy Card | Blue Brown Card | Brown & Teal Card |