HANDMADE GREETING CARD ~
Use a Border Punch for
Lots of Card Ideas
A handmade greeting card can be created using a variety of punches and embellishments. Create beautiful homemade cards for birthdays, birth announcements, Valentines, Christmas and more.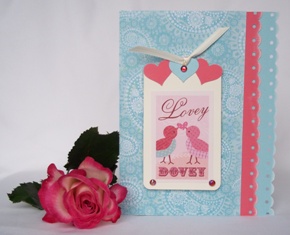 I can't seem to get enough of my scallop border punch. The one used on the cards on this page is Fiskars Treading Water Border Punch but you can use almost any for these card making ideas. Cardstock paper is a little harder to punch but paper weight that is 65 lbs and lower is best.
Using this type of border punch is a little awkward at first but once you get the hang of aligning the paper, especially if you are punching a long strip, it becomes easier each time.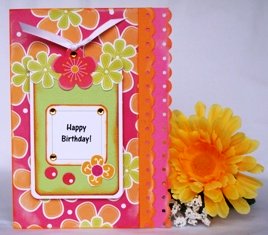 You can add a scallop border along the top, bottom, inside of your card or the edge, like this birthday card.
Click here for instructions. To give it a softer look, apply chalk ink along the scalloped edges like the Valentines and birthday cards.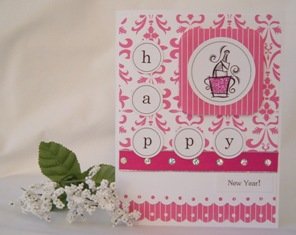 For the Happy New Year card, I layered the borders and placed them along the bottom edge.
Use contrasting colors so that you can see the layers.

Click here for instructions.
You can use them on your photo cards. Place them at one end or in the middle of your greeting cards. I love the peek-a-boo effect of the little holes the border punches make.

Click here for instructions.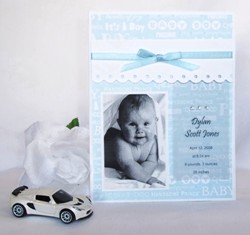 Scalloped borders can give a delicate feel to your baby announcements. If you have a wide strip, add ribbon to break up the white.
The scallop border punch is really versatile when you're making handmade cards.
Handmade greeting card - click here for more ideas.

Back to Home Page