Christmas Card Ideas
These Christmas card ideas start with a light blue colored one and continue with the traditional red and green colors. I hope they will help your creative juices going.  Letting your loved  ones  know you are thinking about them with a handmade card is a personal touch.  The color theme I was going for was a soft, holiday blue but with silver sparkle.
I happened to have a snow flake made of chipboard and I placed a rhinestone jewel in the center.  Here's a list of some of the dies I used for this card:  Noel sentiment and white snowflake background - Anna Griffin Dies.
With so many stamps and paper dies cuts available, ideas for Christmas cards are almost endless.  Photo cards are popular so make a special one for your loved ones.   Other types of Christmas cards can be religious, traditional or modern.  Use rubber stamps, punches, ribbon, 3 dimensional stickers and to help embellish your card.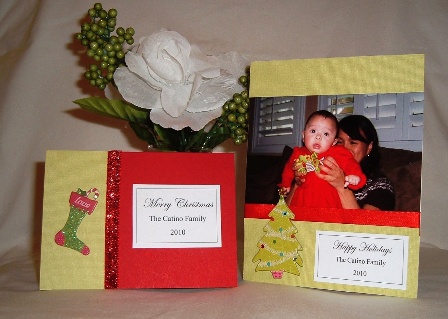 Click here for stocking card instructions

Click here for photo card instructions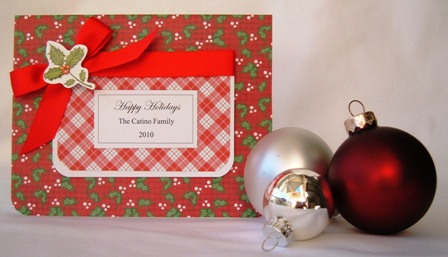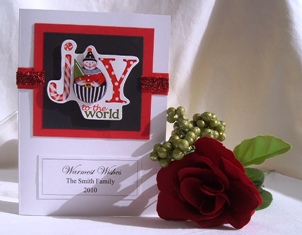 Christmas will be just around the corner and before you know it, the tradition of card giving continues. It's a good time to start thinking about your handmade Christmas cards but if you're stumped on where to begin, I'll help you get inspired and start the creative juices flowing.
Click here for instructions Christmas cards that are handmade are well received and always evoke a pleasant reaction. When displayed in the home, most eyes are drawn to the handmade Christmas card.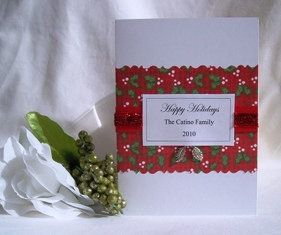 Handmade Christmas card ideas can be found in a variety of places.
WHERE DO I LOOK FOR INSPIRATION?
Visit your local craft or fabric store. There are so many products to choose from. I look in the sticker section to find one that I like and use the colors for the color scheme of my card. I then get paper and ribbon or trim to match.
You can also start with scrapbook paper and find stickers or ribbon to match the colors on the paper.
Go to a book store or library and check out Christmas card making ideas from books and magazines.
Check out the card section at your local store. Sometimes color schemes or layouts spark some ideas for handmade Christmas cards.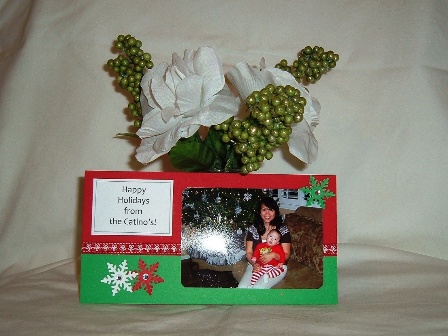 Click here for Instructions
Christmas photo card ideas are fun because you can coordinate the color scheme using the colors on the photo. You can create texture by adding ribbon, dimensional stickers, adhesive chipboard, snow flakes from a punch, stick-on jewelry and glitter. Using coordinated scrapbook pattern paper and adding a solid color makes your card look cohesive. Personalize your handmade Christmas card by printing your message on a printer, handwriting it or use rub-on letters.
Another idea is a Religious card. These handmade Christmas cards will be treasured memorabilia for your loved ones, friends and church members. Dimensional stickers or jewelry charms helps transform a flat, one-dimensional card into an art piece. For your cards, again, add sparkle by using glitter or stick-on jems. Look for stamps, stickers and charms with crosses, doves or any religious themed trinket. You can also make your own from paper if you're looking for something economical.
---
CLICK IMAGE TO FIND MORE CARD IDEAS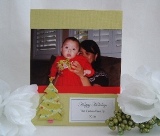 CHRISTMAS CARD PHOTO IDEAS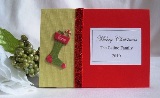 CHRISTMAS CARD IDEAS

---
Back to Home Page
Click here for more christmas card ideas - Photo Cards