Christmas Card Photo Ideas
Christmas card photo ideas can be simple or extravagant. You can make it a single page or multi-fold card. I've created photo cards from printed photos but if you have a great color printer, you don't have to get your prints developed like I did.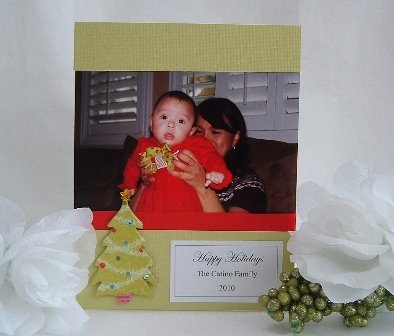 Click here for instructions.
You don't have to use Christmas pattern paper. Oftentimes the pattern paper is busy and it clashes with the photo. If you want to use pattern paper, then print a black and white photo like I did on the card above.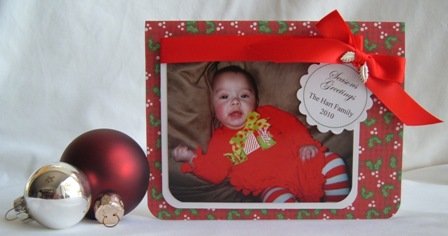 Click here for instructions.
You can add just a piece of ribbon to your Christmas card photo idea or load it up with ribbon, lace, stickers and glitter.
That's the beauty of creating your own photo ideas for Christmas cards, you can do whatever you like!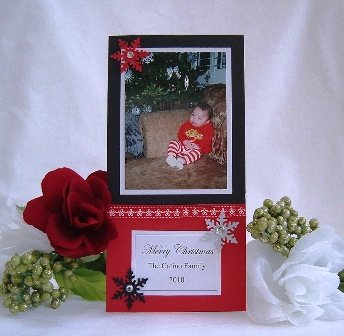 Click here for instructions.
Photo crafts are always fun to create because adding a photo to your card adds that extra personalization. And it always adds a smile to my face when I open up a photo greeting card.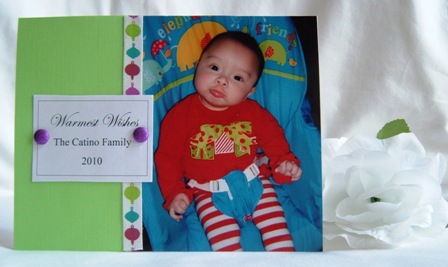 Click here for Instructions
Since lots of people are receiving photo cards these days, make yours stand out by thinking of a unique photo Christmas card idea.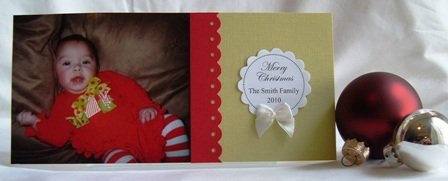 Click here for Instructions
You don't need to rack your brain thinking of more Christmas card photo ideas. Look to websites, book stores or keep coming back to this website for new ideas. I also look at websites that sell photo cards and use the layouts as inspiration for family photo Christmas card ideas.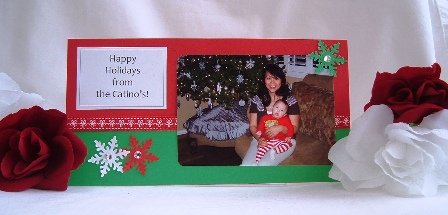 Click here for Instructions
Photo cards can be costly in some instances but with your handmade photo Christmas card, you can create them more cheaply.
This requires some planning ahead but it will benefit your wallet in the long run.
TIPS FOR SAVING $:
First, you'll want to start researching photo card ideas on the web, magazines or books.

Collect any coupons from craft stores and look out for sales.

Pick a photo that you like. Look for coupons or stores that have sales on printing your photo. Stores usually provide quantity discounts.

Click here for Instructions

Once you have a Christmas photo card idea that you like, mock it up and see how much material you'll need for the quantity you are making. Use your coupons or utilize sales to make your dollar stretch.

Discount and "Dollar" stores offer some craft supplies so don't forget to check those out.

Don't forget to order your photos and order a few extras for mistakes or if you forget someone on your list.
Use whatever whatever scraps of paper or trim you have laying around. The colors don't have to be red or green. Punch out a brown snowflake if brown is the color scheme you want to use.
Not all the photo greeting cards have to be the same so if you have scraps of paper, ribbon or other embellishments you'd like to use, don't be afraid to change the design up a bit. You can make every card a unique design if you're ambitious.
---
So you can spark all kinds of Christmas card photo ideas…it's just within your fingertip reach.
---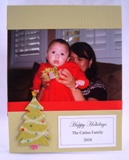 LIME GREEN AND RED PHOTO CARD
This Christmas photo card idea is relatively simple and the tree sticker adds dimension to handmade cards. Choose a color for the paper and trim that best matches with your photo.
---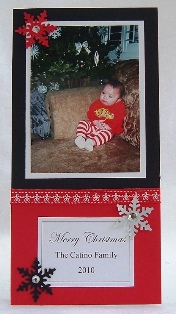 BLACK & RED PHOTO CARD WITH SNOW FLAKES
You can use any color combination for your christmas cards by incorporating the colors from your photo. You can also make this card horizontal/landscape if your photo fits better in this format.
---
---



Back to Home Page

Return to Christmas Card Ideas

Click Here for Christmas Card Photo Ideas - Instructions