Create Your Own Birthday Card
Create your own birthday card for friends, family or co-workers. Making birthday cards is a blast with lots of card making ideas at your fingertips.
When you make a birthday card, look for pattern paper that has "happy birthday" printed on it. This makes the birthday message quite clear.
Look for pretty stickers, like this butterfly, to embellish your cards.
Create a birthday card with adhesive gems or glittery brads to spruce up your card.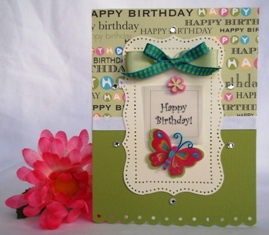 Go to greeting card idea
Making homemade cards involves layering. Here, I layered solid colors and pattern paper. I also layered ribbon and scalloped border edges over solid paper to help the border design pop.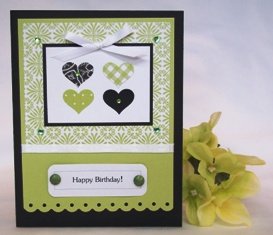 Go to papercraft idea
I placed adhesive gems on 4 corners and added small ones in the middle of the hearts for this card. I inserted brads on the sentiment to bring attention to it.
This card design looks great in different colors like purple or pink. Just switch out the color of the pattern paper.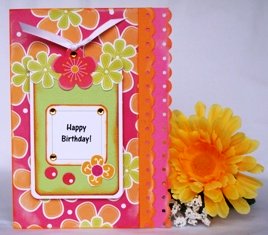 Cut out elements from your scrapbook pattern paper for your homemade birthday cards. I found this bright floral print and cut out small green flowers to add to the front tag.
Go to card craft idea The other flowers were die-cut flowers so incorporating the green flower from the pattern paper helped coordinate the colors.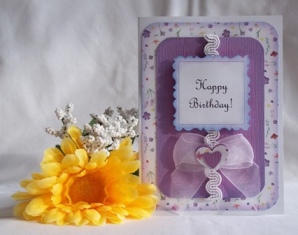 This birthday card design was inspired by the delicate floral print.
Go to homemade card idea I found some scrap white trim and a premade, sheer ribbon in my supplies box so I decided to embellish this card with my remnants.
These are just a few card making ideas to get you started.


---