Making Birthday Cards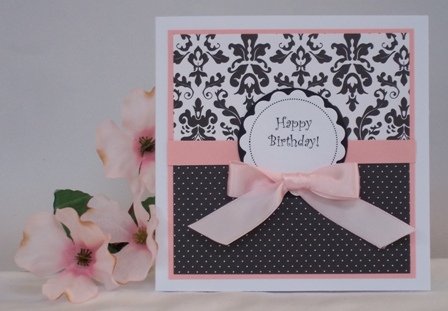 Making birthday cards for a mother, father, other family members or friends should not be a chore so here are some of my birthday card ideas to help you get started on creating your own birthday cards.  
Your birthday cards can be simple if you're pressed for time or it can be more elaborate if you're considering using different kinds of card making techniques and embellishments. Create cards ahead of time so you aren't so stressed out when that unexpected birthday come up or just take your time and enjoy the journey of crafting a handmade card.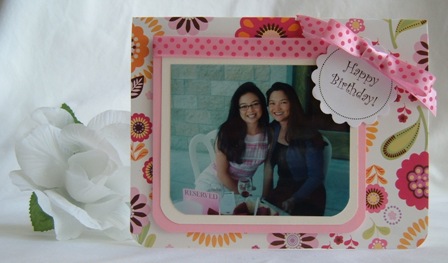 If you want to incorporate your favorite picture of you and a friend, adhere the picture onto the front of the card and round out the corners with a punch.

---
When you design a birthday card, consider who you are making it for. Does the recipient of the card have hobbies, a favorite color or pets? Does he/she like shoes, purses, food or sports? Is she/he artsy, loves nature, or is a city/country folk? Does he/she have contemporary, classic or natural style. Knowing the interests of who the card is for can help when you start on the creative process.  Incorporate these details when you make your own birthday cards.
For this card below, on the right, I decided to use bright colors and used a black border around the squares so that the colors "popped".  
---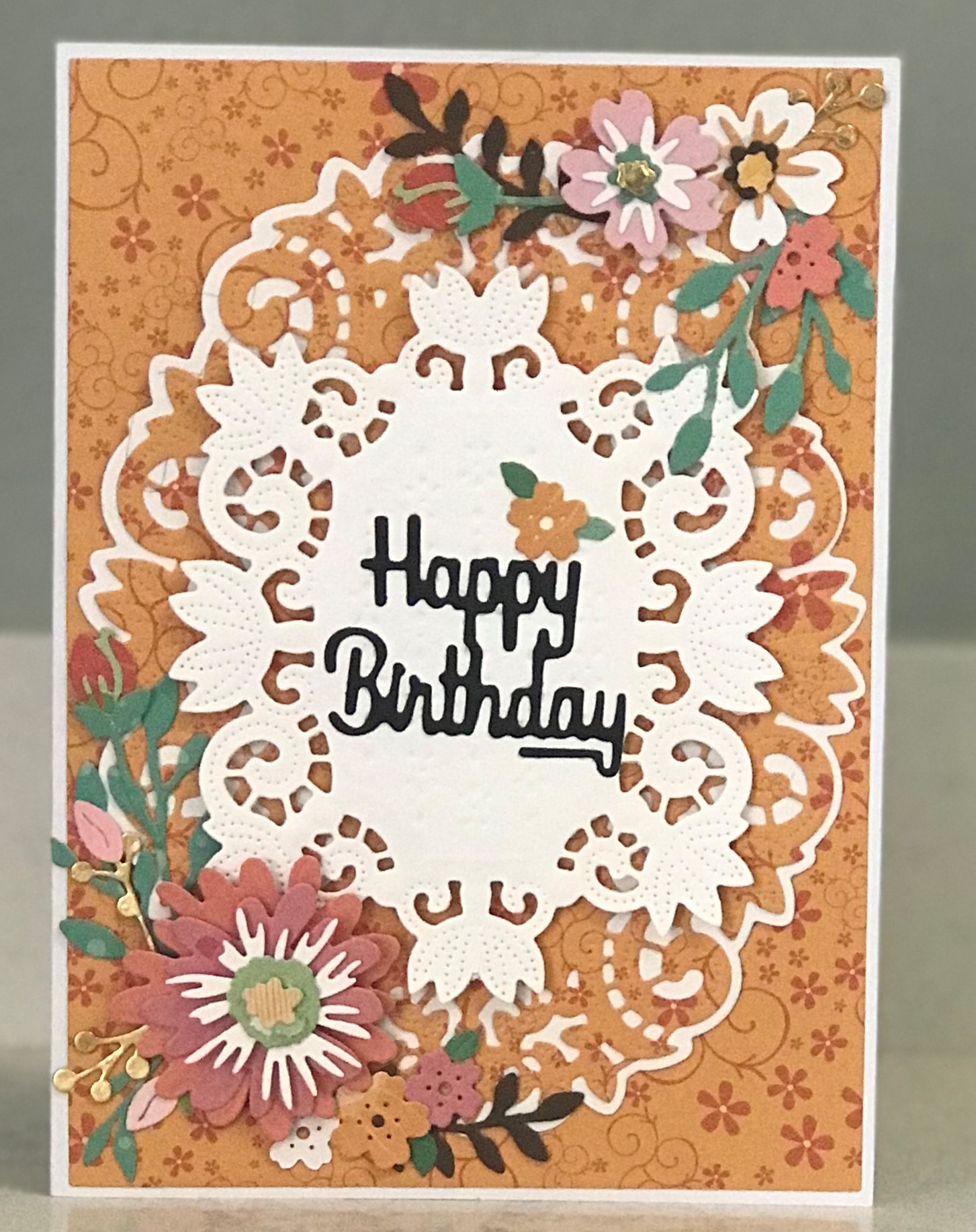 Here is an example of a birthday card using flower dies.  I also used Anna Griffin dies and several different types of flower and leaf dies.  This is a great card idea where you can use small paper pieces to cut the flowers out of.  It has a summer feel with oranges and pink and green colors. I love using gold to accent the card because it gives it a little bit of luster. Using Anna Griffin's Lace Edge Die Set, I alternated the orange background pattern paper with white paper so that there was a contrast and you can see the design of the die better. Use foam squares to add dimension to your card. I added it behind some flowers and the section that holds the sentiment. The sentiment "Happy Birthday" is cut from a die.  The great thing about cutting sentiments from dies is that you don't run out of the sentiment since you can cut as many sentiments and in different colors. There are different sizes of the sentiment die so you just need to adjust the card to the sentiment size.
Anna Griffin - Lace Edge Die Set
Sizzix - Garden Greens
Spellbinders Card Kit of the Month
---
Making Birthday Cards for Dad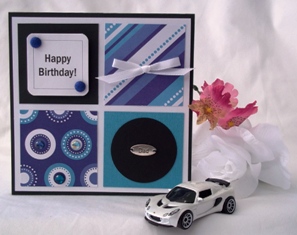 Cards For Males
When making birthday cards for men, consider the color scheme. The color scheme I often turn to are blues, greens and brown. Cards for guys are more simplistic and I always feel "less is more". 
Cards for Males - check out more ideas

---
Making card with Floral prints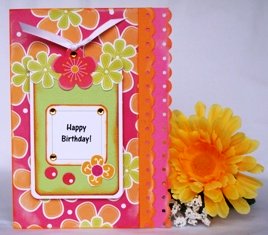 Using floral prints when making cards makes it easy to coordinate colors on your card. Mixing prints add flare to a homemade card, but be careful not to over do it. I provide simple but pretty ideas.  From pastels to bold colors, you'll be able to find an idea you like. Using Floral Prints - check out more ideas

Horizontal cards are good for stickers or objects that are wide.  The card can be left dominant or right.  This card is more weighted to the right.  You can also make it center focused.  Use a divider line to break up the space like I did with this card. I used a black line to break up the solid paper on the left from the pattern paper on the right.

Creating Horizontal Cards - check out more ideas
---
Making Vertical Birthday Cards
I've made several vertical cards (instructions included) that you can copy so making your own cards can be a breeze.  Vertical cards can be top or bottom heavy and can also be center focused. This card is an example of a card using heart punches but there are so many ways you can design a vertical card.

Creating Vertical Cards - check out more ideas 
---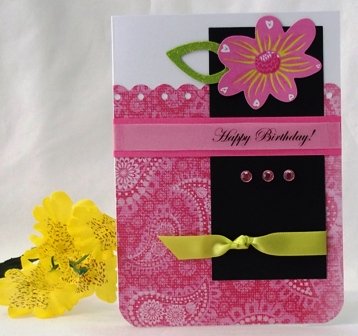 Go to birthday card instructions
"Girls are made of sugar and spice and everything nice". That's what an old popular song says. But we also love ribbon, lace, pink and all things pretty. I like to use gems and glitter along with satin ribbon and beads for my card ideas.
Create your handmade birthday cards using paper punches, embellishments, stickers and of course, pretty pattern paper.
More Birthday Card Ideas
>> c

lick images to see instructions
Making Birthday Cards Using Punches:
Design your own birthday card using craft punches.  Craft punches are great if you don't want to invest in a die-cut machine but want to make your handmade cards look more finished.  I like punches that are versatile and aren't specific for a season.  I like border punches and different geometric shapes to start off with.
| | |
| --- | --- |
| For both of these cards I used the same border punch for the scallop pieces. I used a border punch along the top and bottom strip of paper for the pink card above. | |
For the card below, I used a border punch for the cream scallop around the sentiment.  I embellished the card with a floral sticker and typed the sentiment on vellum paper.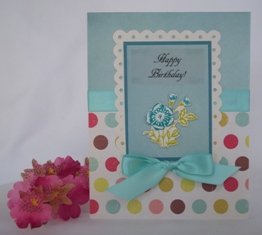 Handmade Photo Birthday Cards:
Use a photo of the birthday girl/guy and personalize it. For this greeting card idea, I rounded the bottom corners of a picture and adhered it to colored paper. I used my scallop circle punch to cut out the sentiment.