Greeting Card Ideas
Greeting card ideas from birthday cards to New Year cards are fun to make. Find several homemade card designs on this site so you can start making your own versions.
You can use almost all of my designs to make a variety of card for different occasions.
Ideas to make greeting cards can be endless with so many color combinations to choose from and styles of paper to select. This one is made from bright pink paper and then accenting it with a splash of lime green.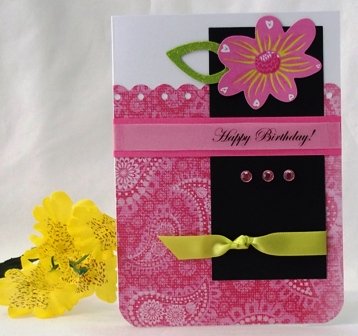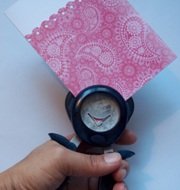 Start with a corner punch to add a different dimension to your card making ideas. You can punch one, two or all four corners of your card to give it a different feel.
This half inch corner punch is one of my favorites to use because it makes your card look cleaner and sharp. I also like the quarter corner punch to make tags.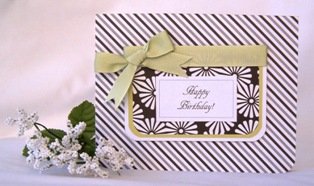 Create layers using your corner punch to add depth and interest.
Go to birthday greeting Punch out the bottom corners of each layer to soften up the diagonal stripes.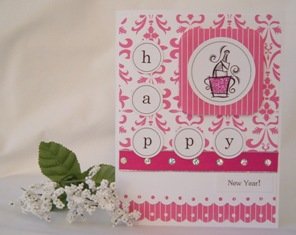 Use your corner punch to emphasize your focal point.
Go to New Year greeting For these card making ideas, I used clip art as my focal point and enhanced it using my punch.

Use the punch on both the clip art and border around the clip art.
Go to birthday card design I used foam tape on the focal point to add more depth.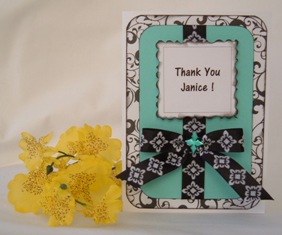 Punch out all four corners.
Go to thank you greeting card I used a chalk ink pad around all the edges of layers of paper on this card which made the corners "pop".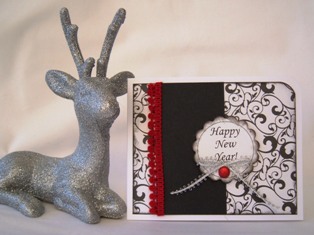 Punch only one corner for a different card making idea. I used a chalk ink pad around the edges which emphasized the corner even more.
Go to Valentines card idea
---

Click here for more greeting card ideas.
More greeting cards ideas to choose from. Use a scallop border punch to create lots of card making ideas.

Click here for more punch ideas.

More card making ideas

More card making ideas using corner punch

More card ideas using border punch

Click here for Valentine card ideas

More Valentine card ideas

Back to Home Page