Birthday Card Design
For a birthday card design, you can incorporate die-cut shapes, ribbon other embellishments. On this page you'll find ideas for making birthday cards that are handmade.
I'll show you homemade birthday cards using corner punches, brads and card making software programs. Glitter can help enhance the look of your birthday greeting.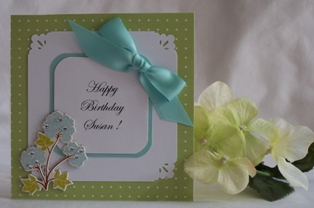 Go to handmade birthday card
This is a simple birthday card idea you can easily make. You just need a decorative border punch and a corner punch to use on the corners of the sentiment. Pick a fancy script font if you are printing it.
You can either print out the sentiment or use your favorite stamp.
The flower on the corner is a chip board die-cut shape which already had adhesive and gems on it.
Microsoft offers free clip art. Search under "birthday" and find tons of images to get your creativity started. You can find other ideas using the same clip art.
I used metallic stickers to help cover up the selvages from the ribbon and softened the edges by using chalk paint to outline the edges.
(Go to the bottom of the page for instructions)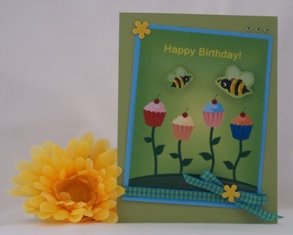 Go to homemade birthday card
If you have a software program to create your own birthday card, then take advantage of it. I used one called ECard Wizard where I printed the background separately from the bees. I added glitter to the bees and used foam tape on them so that they protruded a little from the card. For this birthday card design, I added yellow floral brads and gingham ribbon.



More Birthday Card design
| | | |
| --- | --- | --- |
| | | |
| Card Ideas for Birthdays | More Birthday Designs | Birthday Cards to Make |
---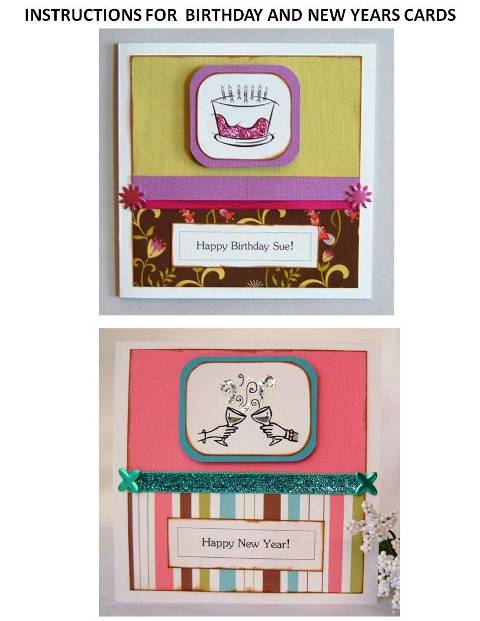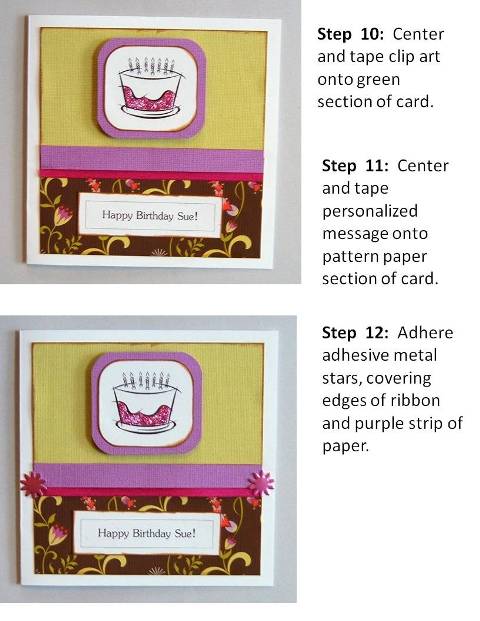 CARD MAKING SUPPLIES:

Scrapbook pattern paper 4 1/2" w x 2 1/4" h
Green paper 4 1/2" w x 2 1/4"
Clip art on cardstock paper 1 3/4" w x 1 5/8" h (depends on your clip art size)
Purple paper 2 1/8" w x 2" h (depends on your clip art size but leave 1/8 border around clip art)
Purple paper strip 4 1/2" w x 1/2" h
Ribbon 5/8" w cut to 4 1/2" long
Personalized message from cardstock paper 2 7/8" w x 1 7/8" h
(2) Adhesive metal stars
Blank white card 5" x 5" (or you can cut a 6 1/2" w x 5" h down to size)
CARD MAKING TOOLS:

Pink card Glitter
Glue for glitter
Double sided tape
Corner punch 1/2"
Foam tape
Birthday Card Design - Click here to find more.
Back to Home Page