HOMEMADE VALENTINE IDEAS
Treat Your Friends
to a Unique Handmade Card!
Homemade Valentine ideas - treat your friends and loved ones to a unique Valentines card. Find lots of cute Valentine cards to make and give.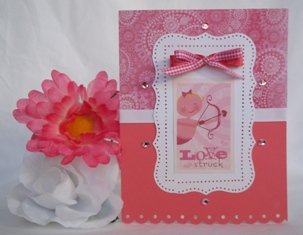 Instead of giving a store bought Valentines card this year, make home made Valentines.
Handmade card making is not difficult and you can find lots of ideas on the web to get you started.
Here are just a few of my card ideas to start getting you inspired.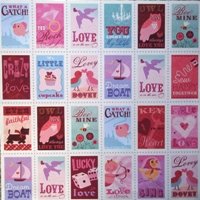 This Valentine card was inspired by scrapbook pattern paper. There were lots of blocks that looked like stamps and I cut this cupid block from it.
What's great about this paper is that I can make lots of Valentine cards from one sheet.
The cupid artwork is detailed enough that you don't need a lot of embellishments to add to the card.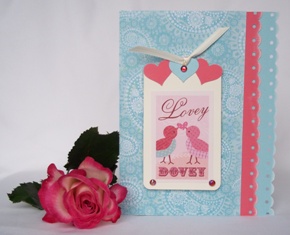 Another card that was inspired by the same scrapbook pattern paper is this homemade Valentine card.
I thought the lovey dovey birds were cute. I created a tag to hold the dove artwork and embellished it with gems, ribbon and punched hearts.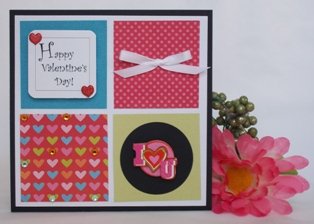 One of my favorite go-to cards is this four square Valentines day card. This card idea is great for using up scraps of paper.
If you want to use smaller squares because your scraps of paper is small, just proportion the rest of the card appropriately. You can position the four squares about 1/8" apart from each other and add 1/8" along the edges for the white border and another 1/8" for the black card and you'll get the measurements for the white and black paper.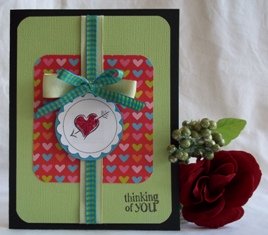 I love using ribbon on my Valentines day cards and this is no exception. Somehow, this green and blue gingham ribbon seemed to work for this homemade Valentine. I found free clip art from Microsoft and used the heart and arrow in the circle tag.
Click here for more homemade Valentine ideas

Back to Home Page