CREATIVE VALENTINE IDEAS

Discover many creative Valentine ideas and hand made card ideas that are fun to make. These special cards are great to give to loved ones.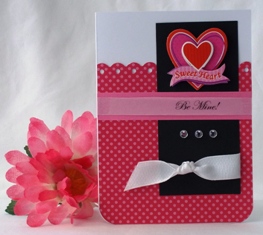 Right after the Christmas season you'll start seeing many Valentine themed stickers, trim, and paper. When making handmade cards, ideas are almost endless.
You can never go wrong with using all kinds of embellishments on your card. I found a set of inexpensive stickers and challenged myself to think of a cute design.
Click here for instructions. The sticker I used wasn't my favorite. I had seen so many beautiful valentine stickers after I had purchased this one but I was determined not to waste it. I used the colors on the sticker as my color palette. A black background seemed to make the sticker "pop". I think this Valentine card turned out quite nice.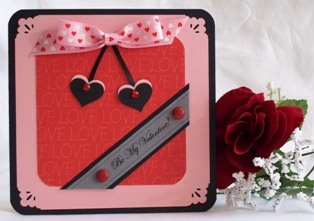 This card was inspired by the ribbon. I thought I wouldn't buy any Valentine ribbon this year but this ribbon was on clearance and I couldn't pass up the bargain.
Click here for instructions. I used an existing design that featured ribbon and changed it up a bit.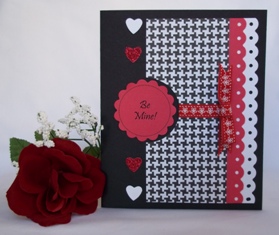 I love using up my packs of black and white pattern paper since they go so well with red.
Click here for instructions. I used the herringbone type print and accented the card with glittery punched hearts and used my border punch to give the side of the card some interest.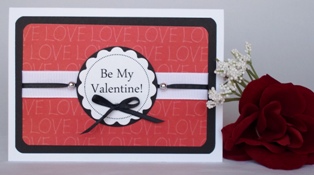 I had a whole pack of silver craft beads left so wanted to use it up for this handmade card.
I used a print that said "love" all over but you can use many other kinds of styles.



Click here for more creative Valentine ideas

Back to Home Page