MAKE GREETING CARDS ~
Use One Tool for Lots
of Card Ideas
Make greeting cards for those special in our lives. Create beautiful, fun-to-make cards for birthdays, holidays, valentines, Christmas and more.
With one tool you can create lots of card making ideas. I love punches because you can come up with different occasions to use them. I created several designs using my circle scallop punch.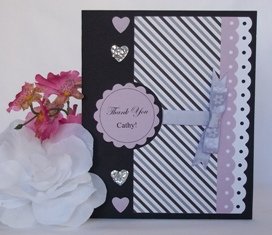 Along with my laser printer, I can personalize my handmade card and create my own special messages for birthdays or thank you cards. I printed my message from colored paper and punched it out with my scallop punch. Click here for instructions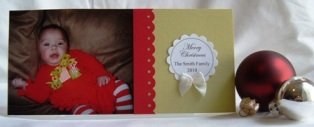 Use your punch to personalize your photo cards and add your family's name and the year.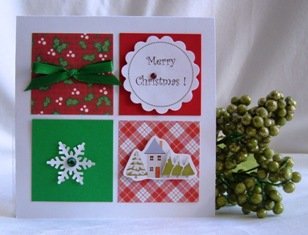 Use it for your Christmas cards. You can add your name, a special message or just say "Merry Christmas". You can use more than one scallop circle on this card idea. Add another circle on the opposite corner and print a different message like "hohoho" as an example. Click here for instructions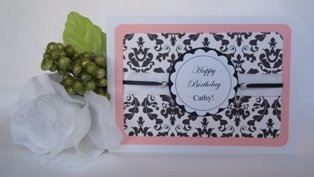 Use your punch as a feature on your birthday cards. Put a sticker in the middle or use your favorite stamp. Just make sure your stamp size fits inside the punch diameter. You can also use stick-on letters for your message.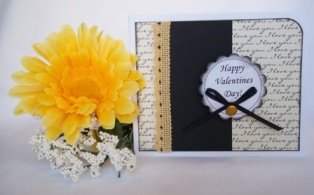 Say "I love you" or "Happy Valentines Day" for your Valentines Day Cards.
To create more interest, apply chalk paint along edges of scallop circle.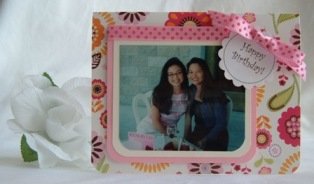 Use it as an accent or embellishment on your birthday cards. Add a funny verse or just say "Happy Birthday".
Click here for instructions These are only a few greeting card ideas and you can create more handmade cards with just one tool.
Make greeting cards - click here for more ideas.

Back to Home Page