Birthday Cards Handmade
Birthday cards handmade - there's nothing quite as fun as making birthday cards, especially homemade cards for loved ones because they are unique.
I wanted to create a handmade birthday card using an existing design. I used a corner punch and coordinating grey, black and white scrapbook pattern paper and trimmed it with green grosgrain ribbon. To add dimension, I used foam tape to make the sentiment section pop. I finished it off with a personalized message.
For my handmade card making project above, I wanted to utilize pattern paper that I had laying around so that's why I used this diagonal stripe print.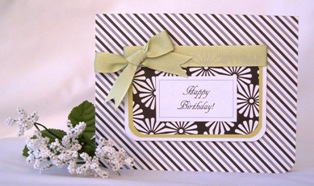 Make a birthday card for mom or dad. This homemade greeting card below can be made for mom or another person. Just switch out the "Mom" charm and you can stamp "Sis" or "Grandma". These are great handmade card ideas when you have lots of solids and prints to work with.
Also, you can use those embellishments where you have only one of an item or small pieces of ribbon. You can use a corner punch to round off the corners or just make straight corners if you don't have a corner punch. Your birthday card design will look just as cute.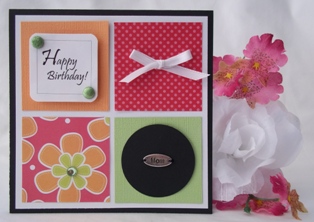 Go to homemade birthday cards
Here's the same design to make your own birthday cards for dad. Using several print and solid paper, I layered squares for my homemade card ideas.
This blue and pink themed birthday card will surely make a good pair for whatever gift you decide to give. With a floral background, detailed white lace, and a multicolored central heart, its 5 by 7" frame is packed full of subtle details for young and old eyes alike to wander through.
Colorful banners, a textured background, and a pretty pastel cake, whats not to love? Have fun presenting this playful card to friend and family alike, they are sure to love it!
There are many ways to present to someone you care about them. Giving them this beautiful card is one it them! It featured a delicate lace bottom, textured top, and rhinestone-centered paper flowers for a bit of extra bling! 
I used a lace die for the bottom. Cut out 3 card-length strips of lace, and layer them bottom to top. Get your textured paper and stick it on the top, right above where the lace ends. Get another card length strip of paper to hide the seams of paper, and add on desired decorations and accessorizes. Done!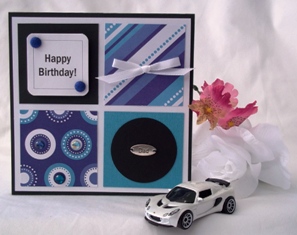 For paper card making ideas using die-cuts, create a birthday card with this template. Again, utilize a border punch to create the white scallop strip. Make birthday cards your friends and family are sure to enjoy and try these examples of handmade cards.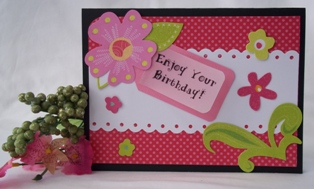 Go to handmade greeting card
More Birthday Cards Handmade

Click here for more unique ideas

Back to Home Page