Make a Birthday Card
Make a birthday card that's pretty and simple. Card making can be fun with these easy ideas that are personalized and accented with dainty trim. 
With so much paper to choose from, it's hard to pick what paper to use when you are making cards.  Match florals with stripes or coordinate polka dots with zigzag prints and you're bound to create a uniqe birthday card. 
This card idea is perfect for pretty but busy designs since you can show the print off. I chose to use a solid purple background color since a darker background color looked best for this handmade card

 Instead of using ribbon or trim, you can use a strip of paper as an option. If you don't have a scallop circle punch, cut a small square from cardstock and stamp or use adhesive letters for your message. Use a corner punch to round off the corners and soften up the card.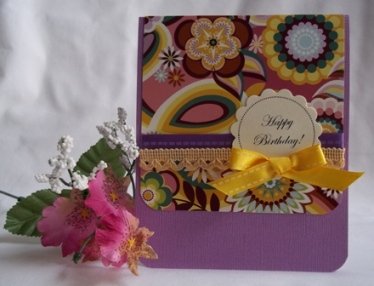 Choose a darker color palette and it's a great card for the favorite guy in your life.
You can't go wrong when you are creating this card. You'll need a corner punch to create the curves along the buttom.  I used a scallop circle punch for the sentiment but if you have a circle or oval sticker, that will work just fine too.  A few materials you'll need is ribbon and trim.  So there really isn't much to this card but with beautiful pattern paper, it can make your homemade cards look like a million bucks, so to speak. Scroll down to the bottom of this page and you'll find the instructions. (or click here for instructions)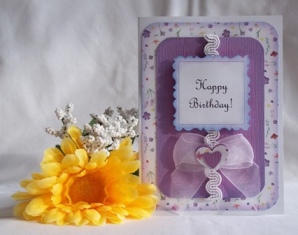 Here's another example of a birthday card using floral prints.  Again, this is a real simple and easy card to make. You'll just need the same corner punch as the card featured above.  I cut the sentiment from border scissors but you can cut it from regular scissors if you don't want a jagged edge. If you happen to find a cool sticker you'd like to use, try that instead to make a birthday card.
Make a birthday card with these other ideas:
| | |
| --- | --- |
| | Here's a birthday card using a bold floral print.  Use large prints when you can feature it in a large amount of space.  For this card, I essentially make it the focal point of my card.  A bow and brads helped embellish it. |
| | |
| --- | --- |
| | And this birthday card is a softer color palette. Pink and tan are the coordinating colors. To help outline the edges, I used gold chalk ink.  A sheer bow and adhesive gems topped off the card.  The sentiment is printed from vellum paper. |
---
Instructions on how to make floral birthday card: