Dad Birthday Cards
When you make dad birthday cards, sports often come to mind. One of my birthday card ideas was using argyle paper to make a golf birthday card for dad.
When you are making birthday cards for a golfer, try this card making project. I found a golf themed stamp and colored the images with chalk ink but you can use markers, paint or whatever medium you prefer. After painting the shapes I cut them out carefully.
| | |
| --- | --- |
| | For your homemade cards where you need a little sentiment, try using a circle punch. This birthday card design needed a little help with the sentiment since the stamp set included a stamp intended for Father's day. So, I passed on using the stamp and instead used my computer.  On my computer,  I created a small circle, typed happy birthday using a small font, printed it out and used a circle punch to cut it out. |
You can add different embellishments when you make your own dad birthday card. For this and most of my homemade greeting card ideas, I used ribbon and I also added a cluster of buttons on this card.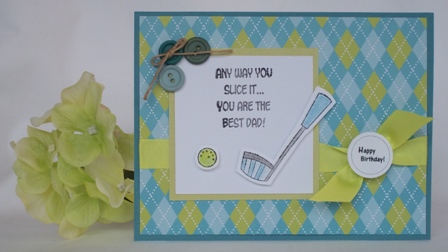 What's great about using buttons on this card is that you can use those loose buttons that just sit in your sewing box.  Since there was only one of each color, I was able to set them into this card, just try to use button colors that coordinate with you card color scheme.  I picked green and blue tones for my card above.
The argyle paper helps set the theme since argyle gives you a sporty, yet preppy feel, perfect for golf, right?
You can scroll below to see how to make this card for dad. (or just click here for instructions)
Other Dad Birthday Cards
Here's another handmade card for dad. I also used a circle punch for the sentiment but used a larger punch than the card above.  If you want to customize the sentiment, use your own stamp or rub-on letters.  You can also use your computer and type in your message like what I did.
This birthday card is a simple design and I used muted colors for a male card. I used a darker color of green for the strip behind the sentiment but if you wanted to use ribbon, or perhaps twine, that would add some texture to your card.
Some ideas to change this up a bit is to use striped pattern paper or other paper pattern designs.  Zigzag is also a good pattern for male cards.  If you'd prefer to use a favorite dad sticker, you can replace the circle sentiment on this card.
Here's another birthday card idea for dad using diagonal stripes and dots. The blue tones help make it for a male.

Brads and a metal embellishemnt also help make it a card for dads.

If you like green or brown tones, use different colors and prints to change it up a bit.
---
Instructions to Make a Birthday Card for Dad