Handmade Birthday Card Idea
This handmade birthday card idea is cute and easy to make with polka dot paper and a satin bow. For this birthday card I used a border punch, stickers and satin ribbon.
To make a birthday card like this one, use a scallop border punch to create a frame for the sentiment.

I used dark teal paper and cut it about 1/4" large than the size of the light teal paper. I then placed the dark teal paper behind the light teal paper allowing for about a 1/8" border.
When you are using stickers to help embellish your handmade cards, use the colors on the sticker to help you coordinate the colors.  I pulled the blue from the polka dot paper along with the green from the leaves of the sticker.  A nice satin bow adds the finishing touch.  Click here to go to instructions>>
I used my laser printer on this birthday card design and printed out the sentiment on vellum paper but you can use a stamp or adhesive letters.
If you'd like to know what border punch I used, it's Fiskars Threading Water.  This punch is a good one to have in your tool box because it's versatile.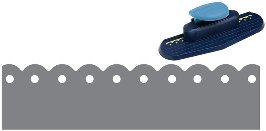 Fiskars Border Punch Threading Water

---
Handmade Birthday Card Idea - More Vertical Cards
This birthday card was created using a corner punch and Martha Stewart's Punch Around the Page, Cherish.  The sentiment was printed on vellum paper.  The paper was layered using a tan and pink color combination. 

I have a few favorite punches that I like to use.  And  this is one of them. To see Martha Stewart's Punch Around the Page, Cherish stamp and many of the punches I recommend,  click here.
| | |
| --- | --- |
| For this handmade birthday card idea, I used the same border punch as the polka dot card above (Fiskars Border Punch Threading Water).  The only difference is that I used it on one side of paper, on the bottom side.  I embellished this card with gingham and grosgrain ribbon.  The image of presents were colored in.  This is pretty simle and quick card to make if you need something fast. | |
| | |
| --- | --- |
| | Here's a birthday card that I made using a software program called E-Card Wizard.  It allowed me to print out the cupcake images along with the butterfly.  This makes card making a lot faster. |
| | |
| --- | --- |
| This red, black and white card above features a birthday cake that I embellished with glitter and adhesive gems.  You can customize the colors if you'd prefer another color other than red.  Then color the cake with the color you choose. | |
---
INSTRUCTIONS
So here are instructions to make this card.  I've tried to make it as simple as possible so you can easily make this card yourself.
---