BIRTHDAY CARDS IDEAS
Birthday cards ideas - you can find lots of ideas to create your own birthday cards using ribbon, craft punches, brads and other embellishments.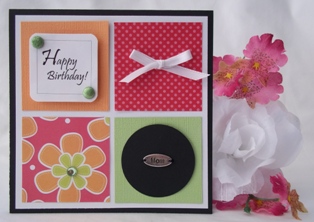 Click here for instructions
Make your own birthday cards and use this card making idea. This card utilizes an assortment of embellishments and scrap pieces of paper. The sentiment has foam tape in the back so it protrudes out a little and has glittery brads on two corners. In the middle of the black circle is a little charm with "mother" engrave on it.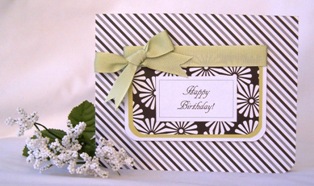 Click here for instructions
Create a birthday card using your corner craft punch. I rounded off the corners on the bottoms of the card and center inserts. I created layers of colored cardstock paper behind the sentiment to tie all the colors together. The sentiment was created on my computer so that way, I can personalize it and use different fonts.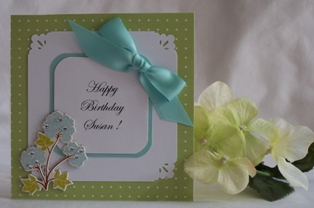 Click here for instructions
Design a birthday card that's quick to make. I had a sentiment created and saved on my computer so I printed it out for this card. Once the sentiment is printed and trimmed, assembling the card is quick. I used a decorative corner craft punch that helped add detail to this card.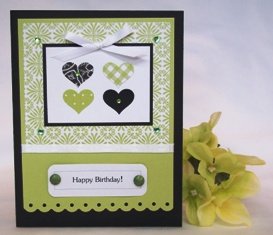 Click here for instructions
Make birthday cards with lots of detail. I used a heart craft punch, scallop border punch, 1/4" corner punch and 1/2" corner punch to help create this card. The embellishments that are used are glittery brads, ribbon and adhesive gems.




birthday cards ideas - click here for more

back to home page