Create Birthday Cards
Create birthday cards using lots of cardmaking ideas. Use die-cuts, ribbon, glitter and other trims when you are making birthday cards.
Die-cuts come in a variety of styles to choose from. You can create many handmade cards from one pack. For the card below, I chose to use a couple of elements from the pack, a flower and leaf.
Depending on the die-cut colors, generally a black background helps make it "pop". And you can't go wrong by adding adhesive gems. They give it that extra "bling".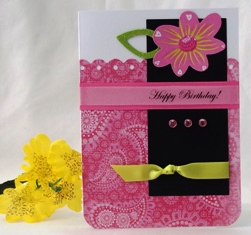 Click here for instructions.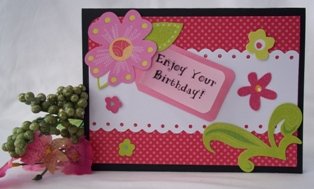 You can design other homemade card ideas using the same pack of die-cuts. I used more of the pieces from the pack on this card and it's the overall theme of the card.
Add a tag with a special message and you can personalize it. I also used my scallop border punch to give the card background dimension.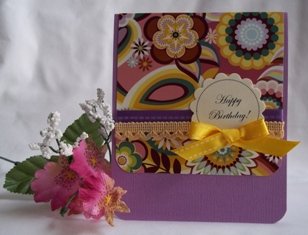 Click here for instructions.
Find a busy pattern and make a simple card idea look fantastic. Look for ribbon and other trim that matches the colors on the pattern paper and it won't take much to make a beautiful birthday card.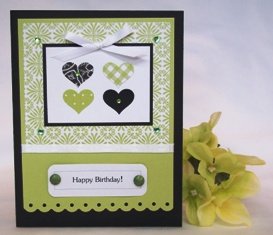 Go to birthday card idea
Use a decorative punches for your homemade card ideas. I like to use fancy punches on solid color paper so the intricate punch design doesn't get hidden within the pattern paper. The other punches I used is a heart punch and a scallop border punch. I also used a small corner punch around the sentiment.




Create birthday cards - click here for more

Back to Home Page