CARD MAKING IDEA
Need a card making idea to create a birthday or Christmas card? Find several homemade card ideas to make cards for lots of occasions on this site.
One birthday card idea is this card. It involves hearts that are punched from a small heart craft punch and strung with beads on a narrow ribbon.
Click here for instructions The heart "jewelry" creates an interesting detail for your card. After you create the string of hearts, the rest of the card is pretty simple to make.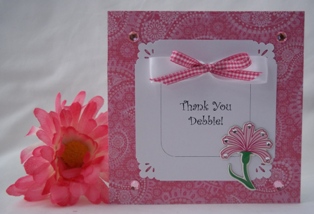 This particular card idea doesn't have to necessarily be for thank you card ideas. I've created an Easter card as well using the same design.
Click here for instructions Since it is a flexible design, it's a great card idea because you can save the sentiment on your computer and change out the text to make cards for different occasions.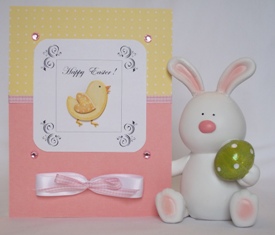 Easter card ideas are fun to make because they have cute stickers and soft pastel colors to work with. This is another versatile card idea because I've used the same design for a get well soon card. I saved the sentiment on my computer and changed out the message.
Click here for instructions The design elements around the border are included and printed with the sentiment so you can make a fancy card without having to use a lot of embellishments.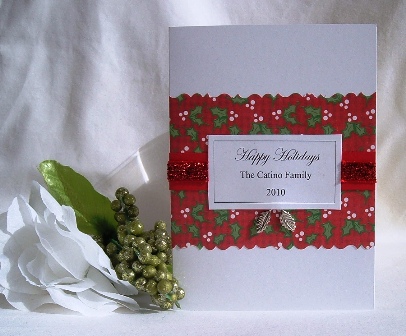 Click here for instructions
For simple Christmas card ideas, just place a strip of Christmas pattern paper in the middle of a card and then add a personalized sentiment in the middle. Accent it with shimmering, red ribbon and a small metal leaf and you've got a handmade card in a snap.




---
card making idea - click here for more

Back to home page