CARD CRAFT IDEAS
When thinking of card craft ideas, use embellishments like ribbon and adhesive gems. Don't forget to use your punches when thinking about hand made card ideas.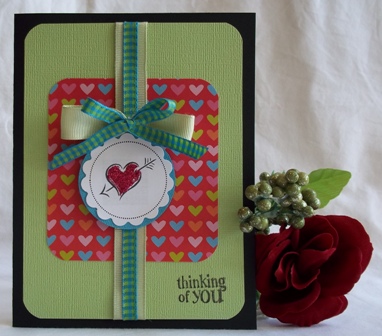 Click here for instructions
It's hard for me not to use ribbon when I'm thinking about homemade card ideas. I feel ribbon is the final touch when making cards.
For your Valentine card ideas, try layering ribbon. I found a 5/8" wide ribbon and a 3/8" wide gingham ribbon and layered them so they helped tie all the colors together.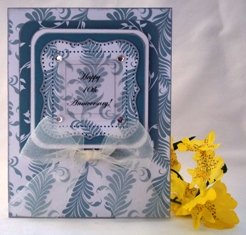 If you are using fancy paper, try using sheer ribbon so that the pattern on the paper won't get lost.
Click here for instructions The ribbon acts as an accent and not a focal point. I used about 1 1/4" wide sheer ribbon on this handmade anniversary card.
I used Martha Stewart's Cherish, Punch Around the Page craft punch for the decorative shape.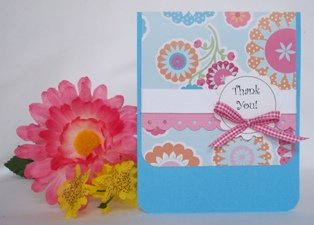 Try to have white ribbon on hand when thinking about card making. My staple colors are white, creme and black. I mostly use white and try to have grosgrain and satin in various widths.
For my thank you card ideas or most of my handmade card ideas I try to incorporate ribbon. I used white grosgrain ribbon and gingham ribbon on this card.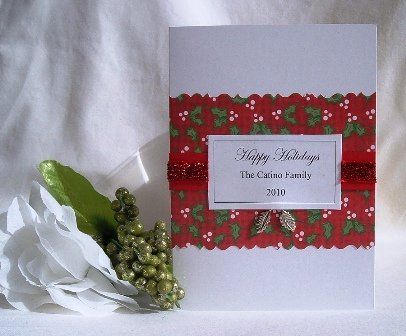 Click here for instructions
Christmas card making ideas can start with shimmery ribbon, which is great for the holidays. I used scraps of ribbon for this handmade christmas card, so don't throw your remnants away.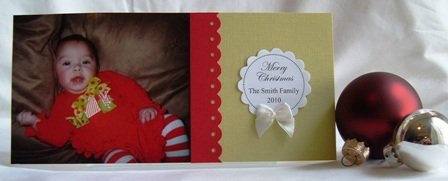 Click here for instructions
For quick accents, I like to use premade bows. I needed a little accent for the bottom of the scalloped circle sentiment on this photo card so I used a premade bow instead of making one from ribbon. It was quick so that was helpful since the holidays are so hectic.
I used a scalloped border punch for the red strip on the side of the photo but you can try using border edged scissors as well.






Click here for more card craft ideas

Back To Home Page