HANDMADE CHRISTMAS CARDS
Make it fast with this easy idea!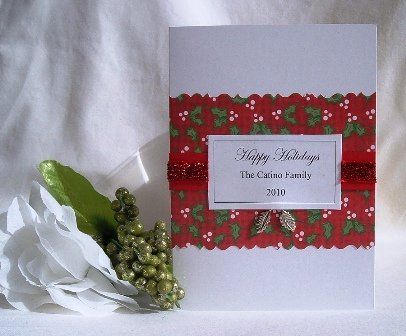 Handmade Christmas cards can be fast and simple to make. I've used scraps of christmas pattern and red cardstock paper for this easy christmas card idea. I pulled out a remnant piece of red ribbon and added a silver leaf for just a bit of an accent. I finished it off with a personalized message.
You can also use a solid color for this handmade christmas card. If you like the color blue, find a sparkly blue ribbon instead of red. Find a Christmas themed embellishment that coordinates with the blue color theme.
Play around with the layout before you tape anything down.

Card Making Materials:
- 4 1/2" w x 3" h christmas pattern paper
- 4 1/2" w x 3/4" h red cardstock paper
- 3/8" wide red sparkly ribbon
- silver leaf or other embellishment like ribbons or buttons
- 2 ½" x 1 ½" personalized message
- 4" x 5 1/2" blank white card

Instructions:
Tape the Christmas pattern paper onto the white blank card, about 1 1/4" from top. Do not tape left edge yet.
Fold left flap over towards back and tape/glue.
Center and tape the red cardstock paper strip over the christmas pattern paper.
Fold left flap over towards back and tape/glue.
Print out your personalized message. You can handprint it or use a stamp or rub-on letters. I like to use cardstock paper so that it is opaque and has a crisp, white look.
On the back of the personalized message, center and hot glue gun the silver leaf at the bottom.
Center and tape the personalized message over the red paper strip/Christmas pattern paper.
Starting at the sides of the personalized message, glue sparkly red ribbon and then cut ribbon at each card side end. You can also fold over 1/2" of ribbon towards back of card and then cut and glue.
script type="text/javascript">
More Handmade Christmas Cards
Back to Home Page