Handmade Baby Cards
Make handmade baby cards using chip board accents. This template can be used as a baby shower card idea and also other handmade card making projects.
I used this design for my other paper card making ideas but I liked it so much, I wanted to create a baby card from the same layout.
Try using chipboard shapes for your handmade baby greeting cards. I found a pack that coordinated with a baby paper stack so it made color coordinating easy. The dress and flower came from the same box of chipboard shapes.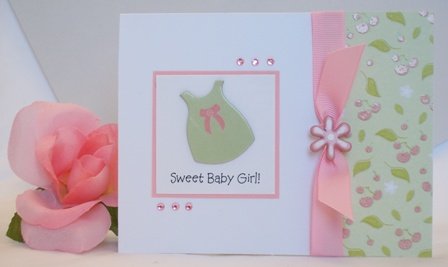 I created the sentiment, Sweet Baby Girl!, on a software program called Ecard Wizard. For many of my handmade card ideas, I create the sentiment on my computer. If you don't have a graphics program, Ecard Wizard lets you create shapes like circles, rectangles or squares.
I made a square for this cardmaking idea and then typed my sentiment inside the square. I used the square for my cutting guide line but you can incorporate the line into your homemade card if you wish. Since I trimmed the lines off from my square, I used pink cardstock to create a border for my handmade card.

Ecard Wizard lets you create and print lots of cards for various occasions but I also use it to make my sentiments.
If you need baby shower greeting cards for a boy, just change the dress accent to another embellishment and change the colors of the card.
Add gems to your baby card ideas. I added three on the top and of bottom of the sentiment but you can place them on each corner of the sentiment or just on the bottom. That's what's great about card crafting, you don't have to follow exactly how I make my card.
For this card making idea, I tied a knot onto pink grosgrain ribbon and placed a flower made of chipboard over the knot.
I love making baby cards because I get to use fun and cute paper and stickers. If you don't have chipboard accents for your homemade greeting card ideas, use stickers, a stamp or clip art.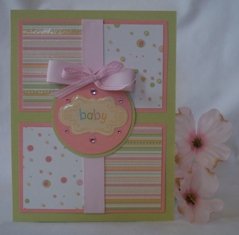 Go to handmade baby cards
Here's another baby card idea using pastel stripes and polka dots. I used a circle cutter on green paper and then made a smaller circle on pink paper. I then placed a puffy sticker on it that said "baby". I added adhesive gems around the sticker. Pink grosgrain ribbon and gingham ribbon helped embellish this card.




---
Click here for more handmade baby cards
Back to home page