Homemade Baby
Shower Invitations
Discover lots of fun homemade baby shower invitations using cute prints. Find handmade card ideas for baby showers with adorable stickers and accents.
For your homemade card ideas for baby shower invitations, use the colors on the print to accent the card. I used peach to outline the whole card and baby blue to outline the sentiment and sticker.
Create baby shower invitations using scrapbook kits. Often times they have coordinating stickers and paper so you can make each invitation unique if you decide to be ambitious.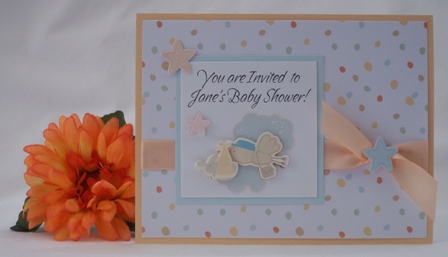 For this handmade card making project, I used a small scrapbook kit but if you want to make the same invitation for everybody, buy cute dotted paper or a cute print and two solid paper colors that match the print. Also buy a sheet of the same stickers and a roll of ribbon instead of ribbon by the yard.
I try to make shortcuts for my paper cardmaking ideas so I created the sentiment on my computer and typed several messages on one sheet to save paper. You can also use a stamp for your sentiment.
I also used dimensional stickers to decorate the sentiment but you can also use stamps and cut them out.
You can find instructions at the end of this page.

---
More Homemade Baby Shower Invitations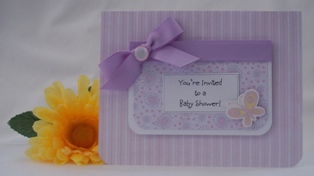 Go to Baby Shower Invitation
Create baby shower invitations using this idea. I used purple striped paper with a delicate purple print. I used a half inch corner punch to round the bottom edges of the sentiment. Find a pack of cute stickers to help you embellish your baby shower invitation. For example, if your theme is a monkey, look for a small monkey sticker.
If the baby shower is for a girl, use pink paper instead of purple. And if you want to customize your invitation, type the last name of the baby on the sentiment.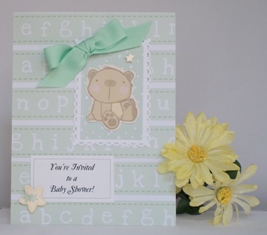 Go to Baby Shower Invitation
I got this idea from a sketch. I also used a border punch to create the scallop frame around the bear image. The bear is a die cut but again, find a page of stickers you can use if you are making baby shower invitations.


---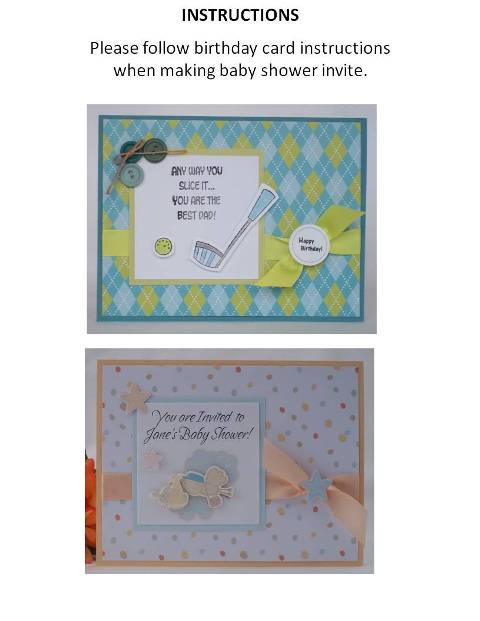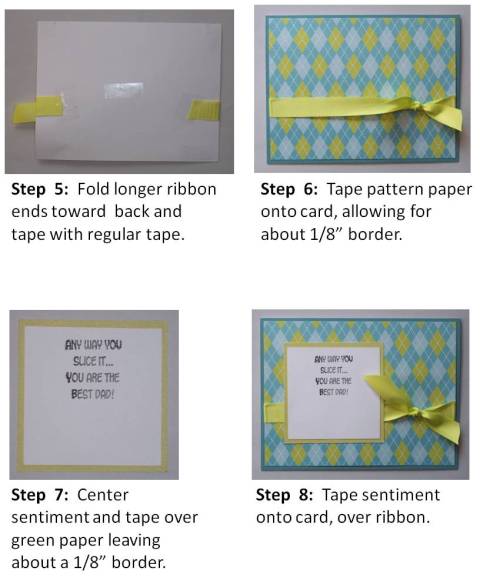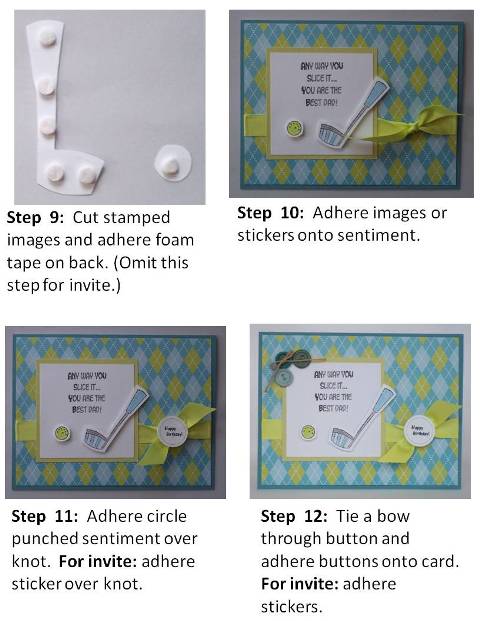 Click here for more homemade baby shower invitations
Back to home page