Fathers Day Greeting Cards
Make Fathers Day greeting cards for a fisherman. Use clip art for homemade card ideas to make a Fathers Day card and embellish it with ribbon and brads.
For this and my other handmade card ideas, I turn to Microsoft's website to look for free clip art that I can use for my handmade card making projects. To create Fathers day cards, and other cards for that matter, you'll have to alter the image to fit into the size of your card.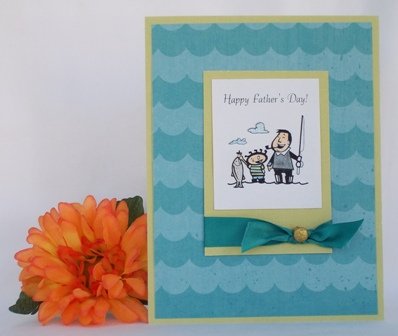 I found an image of a dad with his child fishing so I thought it would be great to use on my handmade Fathers Day card. I use my computer a lot for my paper card making ideas and typed "Happy Father's Day". I then added the clip art under the text and created a border around the text and clip art. You can use the border for your sentiment or use it as a guideline for cutting.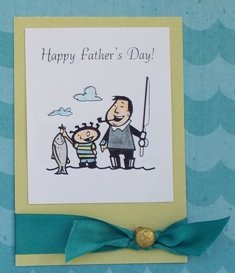 For this Fathers Day greetings, I used the border as a cut line so it's been trimmed away. Once it's been trimmed, you can color your happy Fathers Day card with chalk, pens or whatever medium you prefer. For my homemade greeting card ideas, I often use pencil crayons or chalk ink. What's great about clip art is that you can color it whatever color you want which makes coordinating the colors of your happy Fathers Day cards easier.
Oftentimes, handmade Fathers Day greeting cards aren't extravagant so I didn't want to pile a lot of embellishments on it. You can make Fathers Day cards with or without ribbon but I chose to put a little bit of ribbon on mine. I added a gold brad and adhered it over the knot on the ribbon.
I thought the wavy paper pattern would work well for the fishing theme on this Fathers Day greeting.
You may or may not have a lot of Fathers Day greeting cards to make and you can keep it simple, like I like to do, or embellish it to your heart's content.
See more examples of handmade cards for more Fathers Day card ideas below.

For this handmade Fathers day card, I purchase an e-book and used one of the sketches. I used sketch #49 and revised the card a little bit but the sketch helped me with the foundation and I just added and adjusted pieces of the card. I think the paper the author uses is a little outdated but you can use your own paper to make unique card. The author includes instructions and measurements so that makes card making easier and faster.
Click Here to Try
50 Card Making Sketches
Try other Fathers Day greeting cards and other examples of handmade cards using a sketch from the same e-book.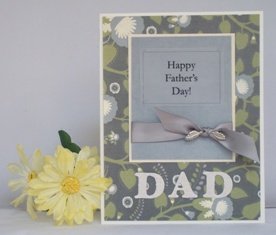 Go to Fathers Day Card Idea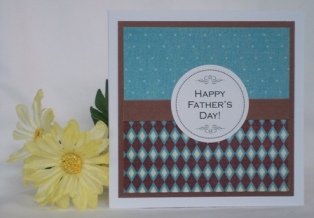 Go to homemade Fathers Day card idea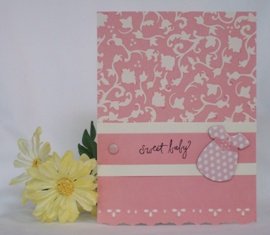 More Fathers Day Cards to Make
| | | |
| --- | --- | --- |
| | | |
| Trophy Card | Blue Brown Card | Brown & Teal Card |
Click here for more Fathers Day greeting cards

Back to home page