Handmade Fathers Day Card
Make a handmade Fathers Day card using glittery brads. Start with a modern patten paper as inspiration for your homemade card ideas to make a Fathers Day card.
I thought this brown and blue pattern paper would make a great Father's Day card because it looked more masculine than using a flower print. The plate looking sentiment was created using a circle punch on different layers of colored paper.
I didn't have the exact color of brads to match the paper so I improvised and colored the brads using glitter.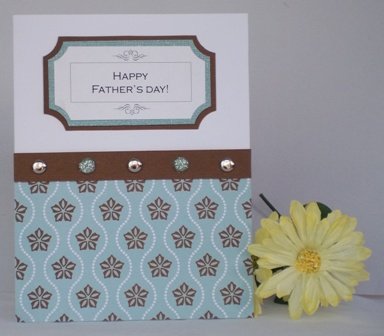 Go to handmade Fathers Day card
Make a Fathers Day card using a trophy sticker as with the card below. Start with a sticker as inspiration to make a Fathers Day card.
Stickers are great for your cardmaking because they make the process faster and easier. This sticker features a trophy that says "Worlds Best Dad".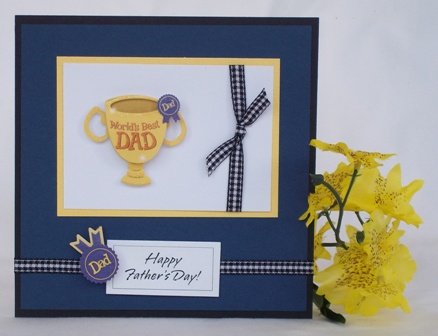 I often use scrapbook pattern paper for my paper card makings ideas but I decided to use solid colors to create this Fathers Day card. I chose the colors on the sticker to help me coordinate the colors of the solid paper. For this Fathers Day greeting card and many of my handmade card making projects, I often use my printer to create the sentiment but you can use rub-on letters or a stamp.
You can also eliminate the ribbon when you make Fathers day cards. Center the sticker if you decide not to add the ribbon. I happen to like ribbon so I used a narrow, black and white gingham for this Fathers Day card idea.
Try this design or my other homemade greeting card ideas to make Fathers Day cards.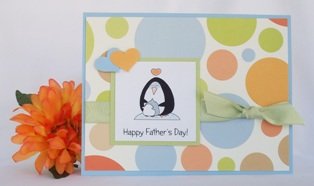 Go to happy Fathers Day card
If you like cute Fathers Day greeting cards, here is one I created using free clip art I found on the web. I just colored the image in with chalk ink using the colors from the pattern paper I used.
Once you print and color in your image, this homemade Fathers Day card is relatively easy to make.
I also used my medium sized heart punch to help embellish it punching out two different colors. Again, using the same color scheme as the pattern paper. I tied a knot on green grosgrain ribbon instead of making a bow. Often times I think bows might be too feminine when making Fathers Day cards.





---

Go to handmade Fathers Day card

Back to home page