Ideas for Handmade Cards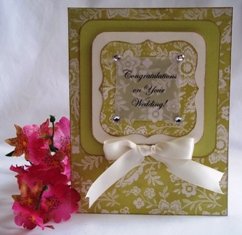 Here are a few ideas for handmade cards to make greeting cards. Handmade card ideas can be inspired by paper, stickers or even ribbon.
When thinking of homemade card ideas, start with paper. I often buy beautiful pattern paper thinking that I'll use it someday. Someday came in the form of a wedding card.
I used Martha Stewart's Cherish, Round-the-Page Punch to create the creme decorative shape that holds the sentiments. This handmade greeting card is embellished with adhesive gems and a satin ribbon.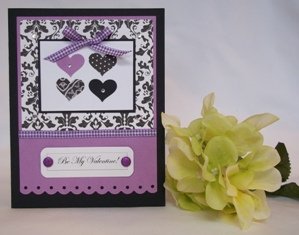 This card was inspired by a heart punch.
I wanted to utilize my heart punch because at the time of making this card, it was in the beginning of February.
I embellished this Valentines card with brads, ribbon and adhesive gems.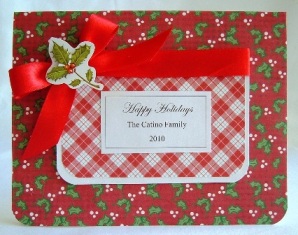 I was inspired from a book when thinking about hand made card ideas for a Christmas card.
This card has a personalized sentiment and I used foam tape on the plaid section so that it gave the card dimension.
It's embellished with ribbon and a holly dimensional sticker.
I used one of my favorite craft punches, the half inch corner punch to round off the bottom corners.




More Ideas For Handmade Cards

Back to Home Page