Make a Halloween Card
Make a Halloween card with a ghost theme. Find lots of unique, cute and spooky homemade Halloween card ideas for making Halloween cards on this site.
I found this cute image of a group of ghosts and used the clip art for this and other Halloween card ideas. I printed it twice and from one of the print outs, cut out one of the ghosts. I then put foam tape on the back of the ghost I cut out and carefully placed it over the duplicate image.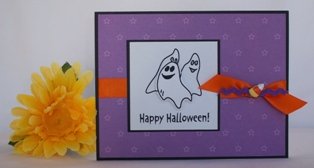 For your handmade Halloween cards, look for purple paper. I actually found my purple print paper in a scrapbook kit but it worked so well on my Halloween card craft that I will make more Halloween greeting cards with it.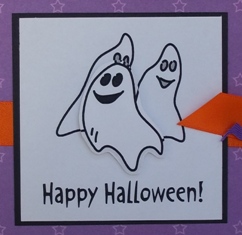 To make the sentiment for this Halloween card idea, I used a card making software program called eCard Wizard. First, I imported the ghost image into the program and then I added the text "Happy Halloween!". I then trimmed the sentiment and placed it on black paper so the black paper served as the border.
For my homemade card ideas, I often save small scraps or remnants of ribbon, trim or buttons. I had purple rick rack so it helped tie all the colors nicely for this Halloween card making project. And I only needed a very small piece for my Halloween greeting card.
I also found a pack of candy corn buttons on sale because I knew they would come in handy when thinking of homemade Halloween card ideas. I cut the shank off and used a hot glue gun to stick it onto the ribbon.
For your paper card making ideas, you don't have to use ghosts. Try a vampire, witch or any Halloween themed image to make a Halloween card.
---
More Examples of Handmade Cards for Halloween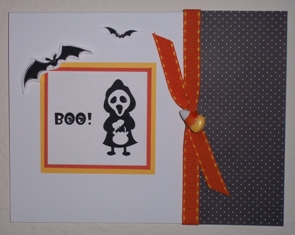 More Halloween cards handmade
Here are other homemade greeting card ideas to build your own Halloween card. I used the same candy corn button for this handmade card making project. To make the sentiment, I used an image and typed in "Boo!" again using eCard Wizard.
You can make more unique Halloween cards with these cardmaking ideas. For this handmade Halloween card, again I used eCard Wizard but this time, used an existing template. Once I printed it out, all that needed to be done was trim the excess borders.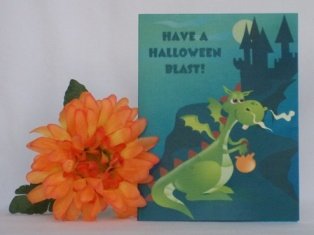 More cards for Halloween
Here's another Happy Halloween card I created but this time I used clip art from Microsoft's gallery. I found an image of a vampire and using eCard Wizard, typed "Happy Halloween".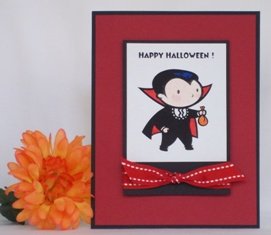 Go to Halloween card idea
You don't have to use eCard Wizard to create your sentiments but it's a good option to have if you don't have a graphics program.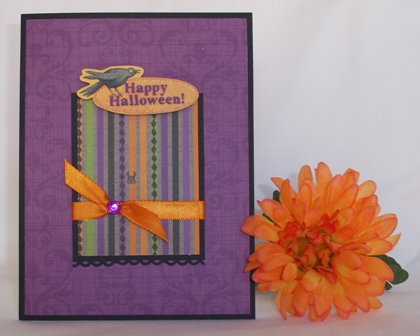 Go to happy Halloween card
Halloween card designs are endless but whatever you make, will be a cool card and will be cherished.




Click here for more ideas to make a Halloween card

Back to home page