Halloween Card Craft
Make a Halloween card craft with bats and spider webs for homemade Halloween cards. Find lots of handmade card ideas for Halloween card making projects.
Cards for Halloween are so colorful and most of my handmade Halloween cards are bright using oranges, reds and greens but this time I wanted to make a Halloween card using dark tones.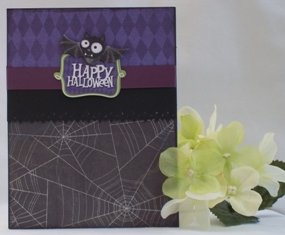 For this happy Halloween card I used shades of purple and black. The purple diamond print was from a paper stack and the other purple shade is a satin ribbon.


Many of my hand made card ideas utilize border punches and for this Halloween greeting card, I used a punch that had small diamond cut-outs and a zigzag border which tied in nicely to the diamond paper pattern. It's a little hard to see in the image since there is a dark colored paper behind the punched border.


For my homemade Halloween card ideas, I utilized a sticker for my sentiment. The vampire sticker came in a pack so it made creating my handmade Halloween card quicker. It also coordinated with the diamond pattern paper.
Inspiration for your homemade card ideas for making Halloween cards can come from a sticker, pattern paper or even ribbon. My Halloween card idea came from the bat sticker and I used the colors to help me with the color coordination.
This handmade card making project was pretty simple because it didn't require a lot of materials.
Make Halloween cards for family, friends or coworkers. No matter what Halloween card designs you come up with, your Halloween card craft will put a smile on the reciepient's face so build your own Halloween cards and try some of my paper card making ideas.
---
More Halloween Card Ideas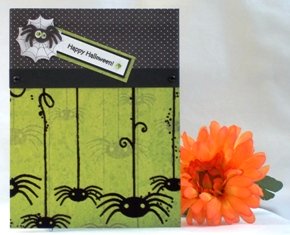 ---
Examples of Handmade Cards Using eCard Wizard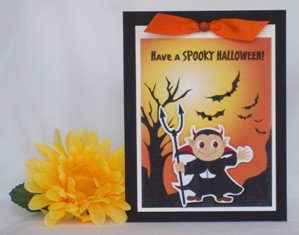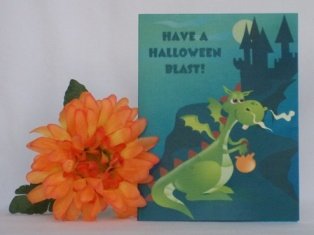 ---
Cards for Halloween Using
50 Card Making Sketches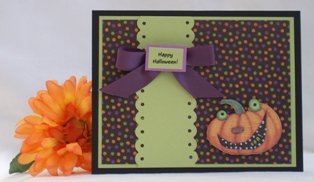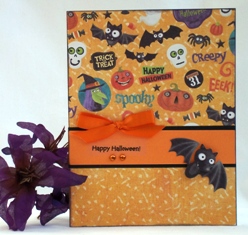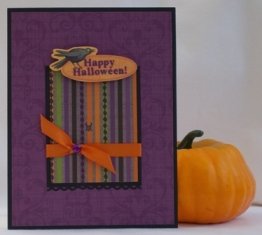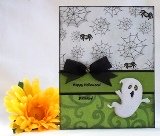 Make this Halloween birthday
card and cards below with
50 Card Making Sketches


Get Your 50 Card Making
Sketches Now...Click Here!


NEED INSPIRATION?
Try an ebook

This ebook offers timeless sketches which will save
you time on your card
making projects. It includes
instructions and images of
finished cards and you can safely download it right away.

Here are other ideas with
50 Card Making Sketches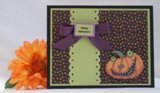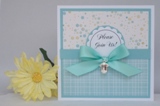 ---
NEED A FAST & EASY CARD
MAKING SOFTWARE PROGRAM?
There are lots of templates to choose from or create your own cards like I did.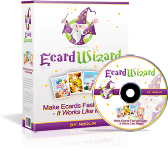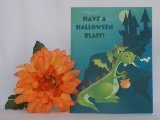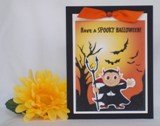 Here's what you can
create with Ecard Wizard
---
More Card Ideas