Fathers Day Greetings
Find lots of handmade card ideas to make Fathers Day greetings using cute clip art. Create unique Fathers Day cards using a heart punch and cute paper.
For many of my other handmade cards, I often search the web for card ideas. As I've mentioned in my other pages, Microsoft offers free clip art that you can download and use for your paper card making ideas to make Fathers Day cards. Often times, the images are colored but you can change or remove the colors for your cardmaking ideas if you have the right software program. For my homemade greeting card ideas, I use Powerpoint to alter the image.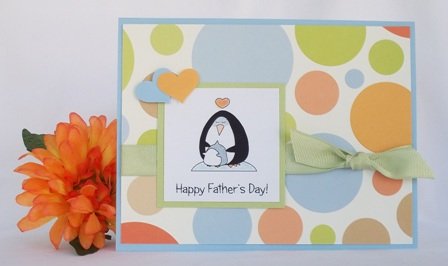 I used an image of a penguin and his baby for my handmade Fathers Day card. I thought the image was cute and you can also use the same card for a birthday card for dad. Using Powerpoint, I removed some of the darker colors on the image so that I could use my own colors. I colored the clip art using the colors from the pattern paper so that it coordinated nicely with the rest of the Happy Fathers Day card.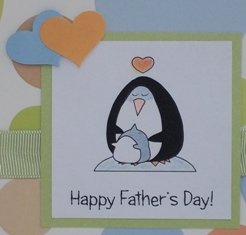 For this handmade card making project, I used blue paper to create a border around the circle pattern paper and used green paper to border the sentiment. The border colors also helped tie all the colors on this card together.
Make a Fathers Day card using a heart punch. Since I had used my heart punch so much from Valentine's I was tired of using it so I dug it out and tried to incorporate it into my handmade Fathers Day cards. Since the penguine image had a small heart over its head, I thought using hearts would be a good embellishment since I didn't have any penguin accents. I punched out two colors and taped them together. I then used foam tape to tape them to the corner of the sentiment.
I added ribbon to my Happy Fathers Day cards even though I try to use ribbon sparingly for cards for a male. I tied a knot instead of adding a bow so it didn't look too feminine on my Fathers Day cards to make.




Fathers Day Cards to Make
| | | |
| --- | --- | --- |
| | | |
| Trophy Card | Blue Brown Card | Brown & Teal Card |
---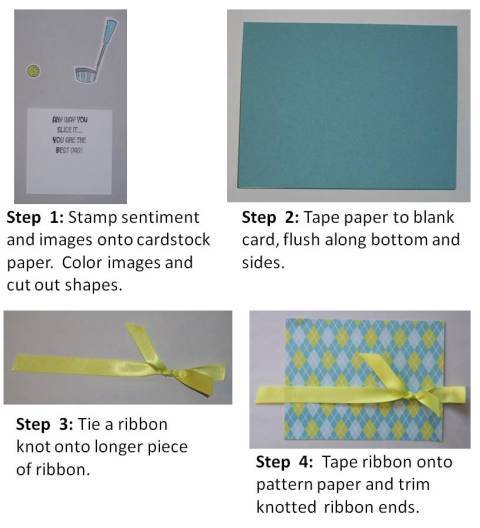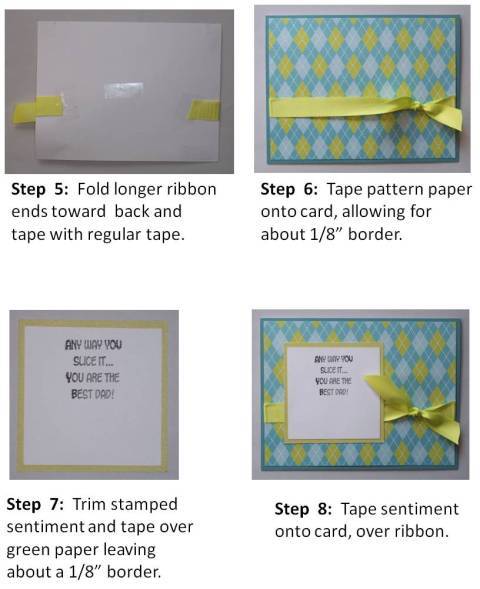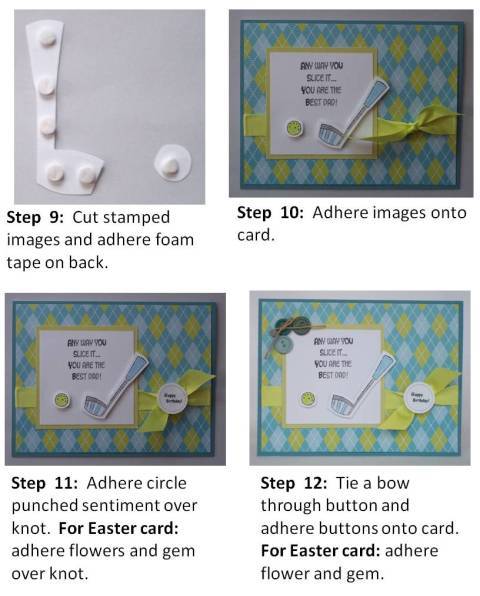 Click here for more fathers day greetings

Back to Home Page