HANDMADE CARD MAKING IDEAS
Homemade Greeting Card Ideas
Discover lots of handmade card making ideas for making thank you, birthday and Easter cards. You'll find homemade card ideas using punches and trims.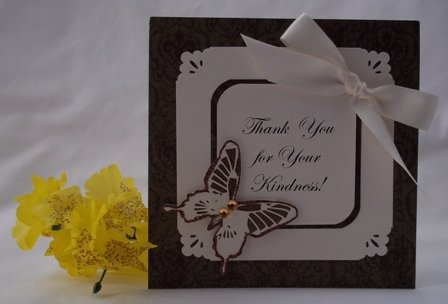 Click here for instruction
Making birthday cards can be quick if you have your sentiment saved on your computer. Once you print and cut it out, the rest of the card is simple to assemble. For this handmade card making project, I used a decorative border punch on cream paper and used a 1/2" corner punch around the sentiment and the brown paper used as a border. The rest of the card is embellished with a butterfly sticker and a satin ribbon.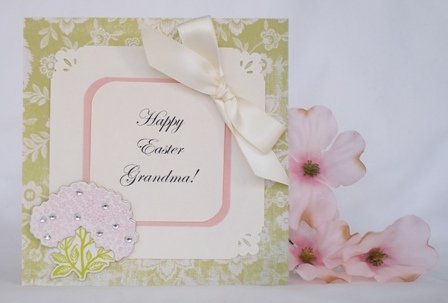 Click here for instructions
For my Easter card ideas, I used the same design as the thank you card above. I used a different pattern paper and used the sticker to help me coordinate the colors for my homemade greeting card. Since I already had the thank you sentiment saved on my computer, I just changed the text to an Easter sentiment and printed it out.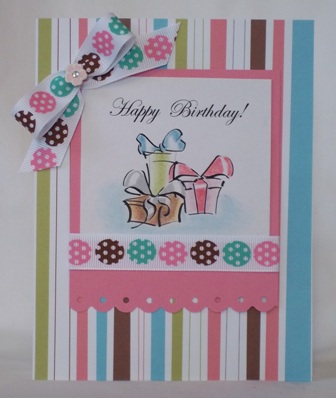 Handmade card ideas can be inspired by cute ribbon. I found a playful ribbon and used it for this birthday card design. You can make a birthday card using free clip art on Microsoft website. I had to modify the clip art using Microsoft Powerpoint program and deleted the existing colors. After removing the colors, I was able to choose colors that matched the colors from the striped paper. I used a scallop border punch along the bottom of the pink paper and finished it off with the playful ribbon.


---
Click here for more handmade card making ideas

Back to home page