SCRAPBOOKING
CARD MAKING IDEAS
Using Craft Punches
Find lots of scrapbooking card making ideas to make an Easter card, ideas for homemade Valentine cards and handmade card ideas for other occasions.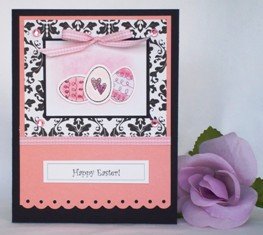 Click here for instructions
For your Easter card ideas, try using an existing design. I made this card for a birthday card but thought it would make a cute Easter card and added Easter eggs instead of hearts. I used a scallop border punch along the bottom of the card and embellished it with gems and gingham ribbon.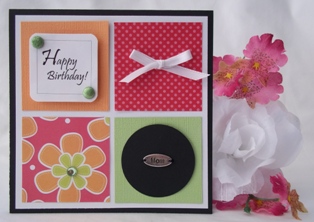 Click here for instructions
Make a birthday card using your scraps of paper. My hand made card ideas usually consists of using craft punches and I try to use up scraps of paper when I can which is what's great about this handmade greeting card idea. It uses small pieces of paper but the trick is to have the color and patterns coordinate. I used a circle punch and 1/4" corner punch on this card and embellished it with ribbon, gems, brads and a charm with "mom" engraved on it.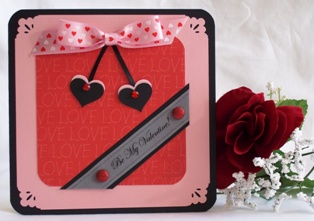 For a Valentine card idea, try this design. I used several punches to create this card. I used a decorative corner punch, 1/2" corner punch and heart punch. The sentiment is printed on vellum paper but you can stamp a message as well. The card is embellished with ribbon, gems and brads.

Click here for instructions
---
Scrapbooking card making ideas - click here for more

Back to home page