PHOTO CHRISTMAS CARD IDEAS
Simple But Elegant!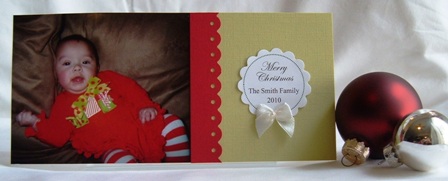 Photo Christmas Card Ideas : you can create lots of easy styles using border punch and scallop punch,stickers, ribbon, and other card making techniques.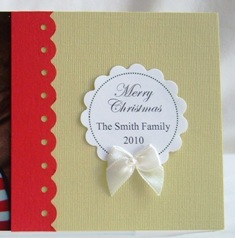 Do you have extra photos laying around that you don't know what to do with? Make them pop by using them in your photo cards. You can utilize those processed photos that aren't quite your favorite by adding embellishments to spruce it up.
I found green paper to match the photo and used a scallop border punch to make the photo "pop". I created a personalized message from my printer and punched it out using a circle scallop punch. I attached a premade ribbon so it looks like it could be a wreath.

CARD MAKING SUPPLIES:
Green cardstock paper 8" w x 4" h
Printed message punched from circle scallop punch
Ribbon
Photo
red paper cut from border scallop punch 3/4" w x 4" h
CARD MAKING TOOLS:
Double sided tape
Circle scallop punch
Border scallop punch
Adhesive dots


INSTRUCTIONS
- Tape photo onto green cardstock paper.
- Tape red (scallop) border over photo edge.
- Center and tape (circle scallop) personalized message.
- Attach ribbon with adhesive dots.



Click here for more Photo Christmas Card Ideas

Click here for more Photo Ideas

Back to Home Page
My Best Card Making Ideas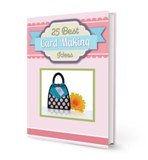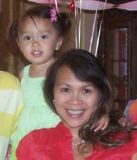 Welcome to Card Making Corner. My name is Chloe and I am a card making enthusiast. I love sharing my card ideas so don't miss out on the beautiful and fun greeting cards you can make and peruse my site.
If you like my ideas, then check out the book above of 25 of my Best Card Making Ideas. These ideas I'm saving for the card making enthusiast so you won't find most of them on my website. Happy Card Making!
---
Invitations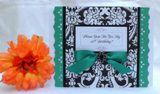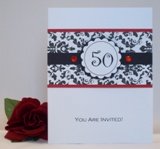 ---
Make a
Handmade Card
CLICK IMAGES FOR INSTRUCTIONS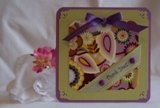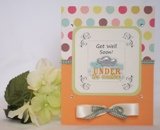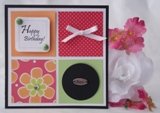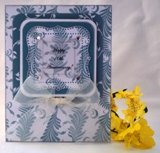 ---
GET THE LATEST
CARD MAKING IDEAS BY
SUBSCRIBING TO MY NEWSLETTER

---
Make Birthday Cards
MAKE A HANDMADE CARD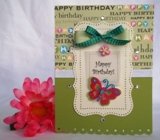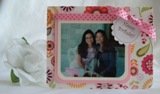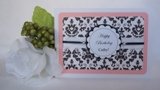 ---