HANDMADE CHRISTMAS card ideas

using paper scraps
Using paper scraps to make handmade Christmas cards let's you challenge your creativity.  Use dimensional stickers, ribbon, punches, buttons or charms to help decorate the boxes in the card.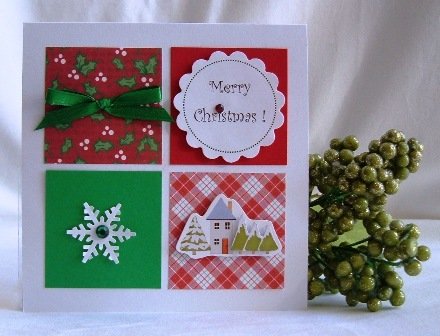 I love looking through my left over scraps of paper when thinking of ideas which is how I ended up with this card. I decorated it with ribbon, a dimensional sticker, stick-on gems and used a scallop and snowflake punch.
What's great about this style of card is that you can use up small embellishments that have been sitting in your supplies box.
CARD MAKING SUPPLIES:
(4) Styles or colors of scrapbook pattern paper 2" w x 2" h
Dimensional sticker
Printed message from scallop punch
Ribbon
Snowflake or other embellishment
Stick-on gems
Blank white card 5" x 5" (or you can cut a 6 1/2" w x 5" h down to size)
CARD MAKING TOOLS:
Foam tape
Double sided tape
Scallop punch
Snowflake punch
Adhesive dots or glue gun

Other embellishments you can substitute for the ribbon or snowflake can be a button, preferably a green, white or red colored button to help coordinate with the holiday colors.  If you use other holiday colors like blue or sometimes, purple can be a holiday color, then pick appropriate button colors.
I used a scallop punch to punch out my sentiment but you can also stamp a little message or use a sticker that says Merry Christmas.
More Handmade Christmas card ideas
Click here for more Christmas Card Ideas
Back to Home Page