HANDMADE PHOTO
CHRISTMAS CARD
Easy to Make!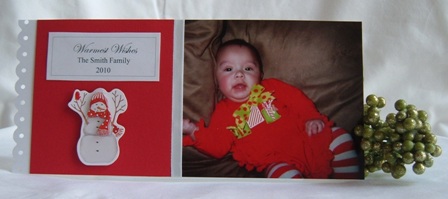 Handmade Photo Christmas Card : you can create lots of personalized and easy styles using a scallop border punch, dimensional stickers and ribbon.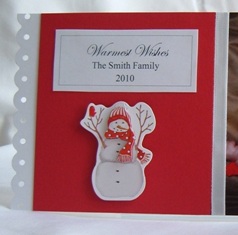 Liven up your photos my adding ribbon, scallop trim and a dimensional sticker or any other holiday embellishment in your supplies.
I stuck with the traditional red and white color scheme and used a scallop border punch on one side of the card. I created a personalized message from my printer and added a dimensional sticker of a snowman.

CARD MAKING SUPPLIES:
Red cardstock paper 8" w x 4" h
Printed personalized message
Ribbon 3/8" wide cut 4" long
Dimensional sticker
Photo cut 4 1/2" w x 4" h
White paper for border scallop 1" w x 4" h
CARD MAKING TOOLS:
Double sided tape
Border scallop punch


INSTRUCTIONS
- Tape photo onto red cardstock paper.
- Tape ribbon over photo.
- On the back, tape white (scallop) border on the left edge of card.
- Center and tape personalized message.
- Adhere dimensional snowman sticker.




Click here for more Handmade Photo Christmas Card

Click here for more Christmas Photo Ideas Click here for more Photo Ideas

Back to Home Page