PHOTO IDEAS
FOR CHRISTMAS CARD -
Personalize It!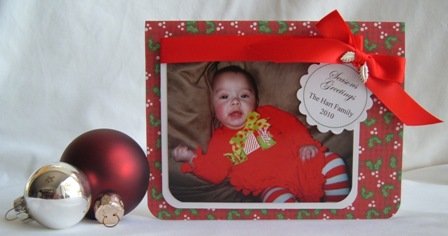 Click here for instructions and another card idea using same design

Photo ideas for christmas card :you can make lots of unique and personlized styles using scrapbook paper, ribbon, punches and other card making accents.
I wanted to make use of my corner punch since I love using my punches. I used a holiday scrapbook pattern paper and trimmed it with red satin ribbon and a delicate metal leaf. To add more dimension, I used foam tape to make the photo section pop. I finished it off with a personalized scallop message.

CARD MAKING SUPPLIES:
Christmas pattern paper 6 1/2" w x 5 1/2" h
White cardstock paper 5" w x 4 1/4" h (depends on your photo size but leave 1/8" border around photo)
Photo cut 4 3/4" w x 3 1/2" h (but crop photo to your size)
Scallop personalized message
Red ribbon 5/8" w cut to approx 6" long
Red bow
Silver metal leaf or other accent
Blank white card 6 1/2" w x 5" h
CARD MAKING TOOLS:
Double sided tape
Clear tape
Foam tape
Corner punch 1/2"
Scallop circle punch
Adhesive dots
Click here for more Photo Ideas for Christmas Card

Back to Home Page