CHRISTMAS PHOTO CARD IDEAS
Make It Easy On Yourself!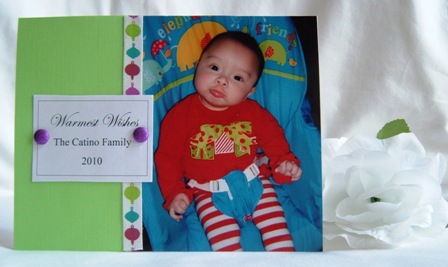 Christmas Photo Card Ideas : it doesn't take a lot of time to make a photo card. You can create lots of styles using dimensional stickers, ribbon, punch and other card making techniques.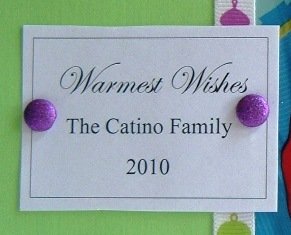 I used a blank 5 x 6 1/2" card so I can write a message inside but you can make it like a single page postcard.
I found green paper to match the photo and used a fun colorful ribbon that tied everything together. I created a personalized message from my printer and attached it with glittery purple brads.

CARD MAKING SUPPLIES:
Green paper 2 1/2" w x 5" h
Printed message
Ribbon cut 5" long
Photo cut 4" w x 5" h
(2) purple brads
Blank white card 6 1/2" w x 5 h"
CARD MAKING TOOLS:
Double sided tape


INSTRUCTIONS
- Tape photo onto blank card.
- Tape green paper onto blank card.
- Center and tape ribbon over green paper and photo.
- Attach brads on both sides of personalized message.
- Tape personalized message onto card.




Click here for more Christmas Photo Card Ideas

Back to Home Page