HANDMADE CARDS IDEAS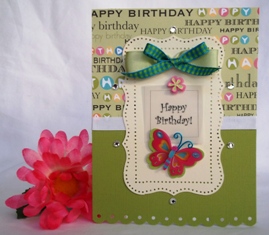 Handmade cards ideas - choose from a variety of designs to make your own homemade greeting cards. Find lots of examples of handmade cards and instructions.
Click for instructions Handmade card ideas can take the form of a decorative shape. I started making this card using the cream shape that holds the stickers and sentiment.
I wanted the sticker and sentiment to be the focal point and thought the decorative shape would hold it nicely. You can also use one pattern paper instead of a print and solid if you have fun paper you want to feature.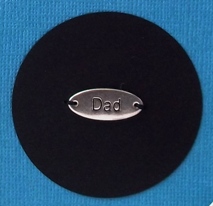 Handmade card making ideas can come from an embellishment.
I purchased a set of metallic charms that had mom, dad, sister and brother engraved on it.
I wanted to make a birthday card for dad and used one of the charms.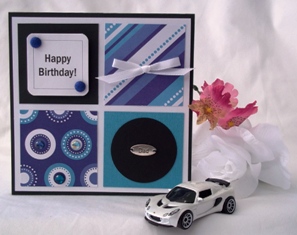 Since the charm was so small, I had to place it in a large, black circle so that it could be noticed.
Since I had a charm for mom, I created a birthday card for mom as well.
The rest of the card is embellished with ribbon, adhesive gems and glittery brads.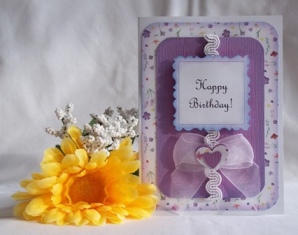 Ideas for handmade cards can be inspired from remnants of trim.
I had a small piece of white trim that had been sitting in a plastic bag just waiting to be used.
I placed it down the middle of the card and since it was thick, I adhere foam tape behind the sentiment and adhered the sentiment over the trim.
The sentiment was raised and remained flat since the foam taped raised it and created a "bridge" so the trim didn't interfere with the paper.
Other remnants I was able to use was a premade sheer bow and scraps of paper using my craft heart punches.




Handmade Cards Ideas - Click Here For More

Back to Home Page