HANDMADE CARD MAKING
Handmade card making - find handmade card ideas for making birthday cards, homemade Valentine cards, handmade Christmas cards and more.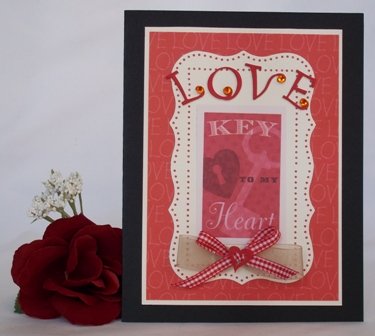 Click here for instructions
Homemade Valentine cards are always fun to make because there are so many lovely stickers to choose from. I found an inexpensive set that had hearts and the letters to spell "love". The creme decorative shape is punched from Martha Stewart's Cherish, Around the Page punch.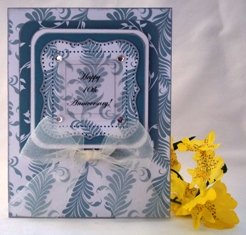 There are lots of beautiful pattern paper to choose from and I found a paper stack that had coordinating patterns.
For this handmade anniversary card, again I used Martha Stewart's Cherish, Around the Page punch to create the decorative shape that holds the sentiment. I added adhesive gems and a sheer bow.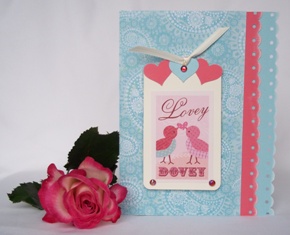 For Valentine card ideas, look for paper or stickers that you love.
I found a scrapbook pattern paper that had blocks of different images so I used the individual images to create lots of handmade valentine cards.
I thought the dove birds were cute so I made a card out of them.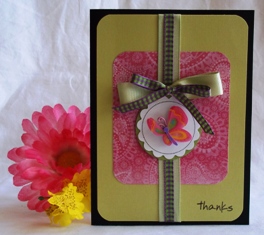 Thank you card ideas can be inspired by cute ribbon and stickers.
This butterfly sticker was inexpensive and cute so I had to buy it.
Luckily, I had plaid ribbon to match so I used the colors on the butterfly to help me coordinate the colors.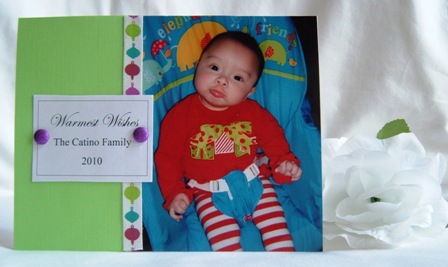 Click here for instructions
When thinking of Christmas card photo ideas, consider the colors of the photo and incorporate them into your card. I printed out the sentiment on my laser printer and added glittery brads on the sides.
Card making is a great hobby and one where the cardmaking ideas are almost endless.
Click here for more handmade card making ideas

Back to home page