CHRISTMAS CARD IDEAS:
Use Dimensional Stickers
Christmas card ideas - some can come from a package of dimensional stickers you like. Shop around for a set of stickers that catches your eye.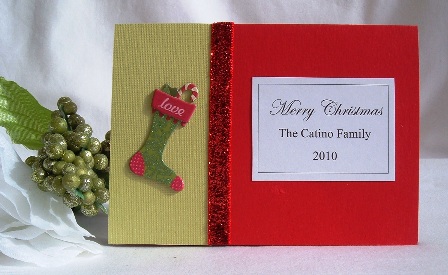 This card is simple to make. I've used scraps of green and red cardstock paper. I pulled out a remnant piece of red ribbon and added a dimensional chipboard stocking sticker. I finished it off with a personalized message.

Card Making Materials:
- 8" x 5 ½" red cardstock paper
- 2"w x 4"h lime green paper
- 3/8" wide red sparkly ribbon cut to 4" long
- Adhesive chipboard sticker or other embellishment
- 2 ½" x 1 ½" personalized message
Instructions
Score the red cardstock paper so finished card is 5 1/2"w x 4"h.
Align the lime green paper, flush along left and bottom side of red card.
Center and glue/tape the red ribbon where the lime green paper and red card meet. (I like to use a hot glue gun instead of tape so ribbon is secured)
Center and adhere the chipboard dimensional sticker onto lime green paper.
Print out your personalized message. You can handprint it or use a stamp or rub-on letters. I like to use cardstock paper so that it looks more crisp white.
Center and tape the personalized message about 1/2" from the sides and 1" from the top and bottom.


Click here for Christmas Card Ideas: Photo Ideas
Back to Home Page