50th Birthday Invitations
50th birthday invitations - making birthday invitations with this homemade card idea can be fast with my simple and pretty party invite design.
When you create birthday invitations, try to make them as simple as you can because when you are making several, it becomes labor intensive. This card is relatively simple and I started with precut and scored blank cards.

For my 50th birthday party invitation, I started with black and white pattern paper. I then added pink as an accent color. Pink is always a fun color to use for a girl. The color contrasts real well against a black card if you'd prefer to use black and your background color.
I try to make the designs for my handmade card making projects versatile so you can use them to make your own birthday invitations or greeting cards for other occasions.
I like to use my computer and laser printer to make personalized birthday invitations which is what I did for this birthday invitation.
I also used a border punch that had the look of eyelet. The eyelet gives the invitation a more feminine feel and when placed against a white background helps the eyelet pattern pop.
For your birthday invitation ideas, try adding a fancy bead or jewel. I just happen to have left over jewel type beads stashed in my supply box and thought it was the perfect embellishment to help accessorize my 50th birthday invitation.
Like I said before, this birthday party invitation template is versatile and you can use the design for your other homemade greeting card ideas. I've made anniversary cards and other birthday cards as well with the same design.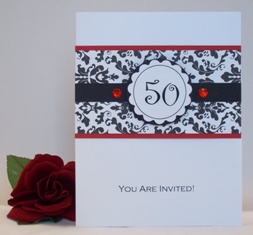 Go to 50th birthday invitations
Here's another idea for a 50th birthday invite. Again, using black and white print, I was able to create a simple invitation. This time the accent color I used is red instead of pink. The card making tools I used were a circle punch and a scallop circle punch.
I also used my computer and laser printer to create the number 50 inside the scallop circle. You can personalize it and add the name and use a rectangular shape for the sentiment instead of circle if you don't have any punches.
To make the invitation process faster, I used blank white cards. Included with the cards were envelopes so buying this set is ideal when making your own invitations.
You can also make this pretty much for most milestone birthdays like a 40th birthday. Just change the year on the sentiment. If you don't like the black and white print, then use a pattern paper that you like and use a color on the pattern paper instead of the red.