40th Birthday Invitations
40th birthday invitations - ideas can come from an animal print. You can make your own birthday invitations with this template and many other designs.

For this 40th invitation idea, I was inspired by this animal print. I'm not actually sure if it's a leopard or what but I thought it was going to make a cool invitation, especially for a 40th birthday invite because it reminded me of being wild and 40 is a big milestone birthday. I added a little red to make the invitation even hotter.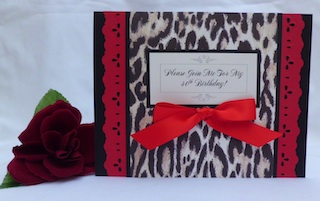 If you are thinking of personalized birthday invitations, you can customize your sentiment by creating it on your computer. Pick a fancy font and add whatever name or message that you'd like. Look for sayings on the web or just say "You Are Invited".
To make the red eyelet trim, I used a border punch. The punch also embossed at the same time that it was punched so it give the punched strip more dimension.
I noticed the animal print had a creamish color on it instead of white so I chose to make my sentiment in cream. I thought the black background helped make the red eyelet trim stand out more.
For this birthday party invitation template, I started with a blank black card that had envelopes already included. Make things easy on yourself when making your own invitations because you might have several to make and it does get tiring if your making several.
Make birthday invitations and surprise your guests with this unique handmade card. Add your own personality and the things you like when you create birthday invitations. If you are making it for somebody else, think about the person's favorite colors, sports or hobbies to help inspire you. Look for paper, embellishments, ribbon, charms or stickers that carry the theme that has inspired you.
I've not only made this invite for 40th birthday party invitations but it works well for a 50th birthday invitation. I just changed the sentiment. Since I created the sentiment on my computer, it was easy to do. Also, this time I personalized it and added a name. Change out the coordinating color to whatever color you like. This one is pink and is very feminine.
I had beads that I used for another craft project so it was great to utilize it for this card making idea. The bead is actually to make jewelry but beads add a nice touch when you create birthday invitations. They might make your invitation cost more but the accent makes it that more special. 

other 40th birthday invitations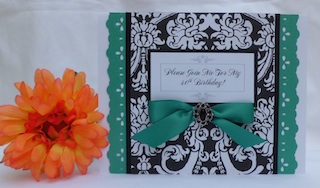 Go to handmade 40th birthday invitation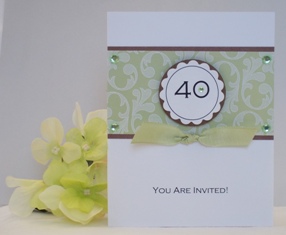 Go to 40th birthday invitations