HOW TO MAKE HANDMADE CARDS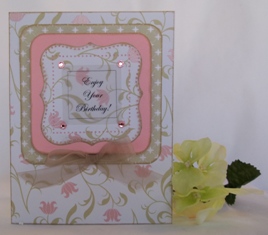 You can find lots of instructions on how to make handmade cards on the web. When making greeting cards, you only need a few tools unless you want to make your card elaborate.
Below are some examples of handmade cards and instructions.
When thinking of handmade card ideas, I often start with the paper.
I thought this paper would make a beautiful handmade greeting card and used Martha Stewart's Cherish, Punch Around the Page craft punch to create the decorative shape that holds the vellum sentiment.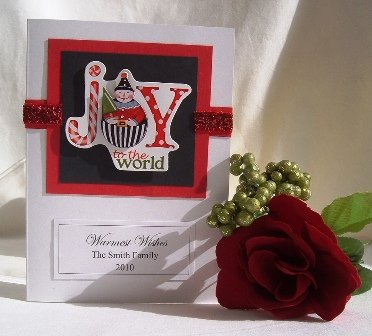 Click for instructions
If you don't have a lot of tools, you can create homemade greeting cards with a blank card, colored paper and an interesting sticker.
For this Christmas card, I created two different sized squares and placed a colorful dimensional sticker on it.
I added a small piece of ribbon on the sides and printed the sentiment from my laser printer.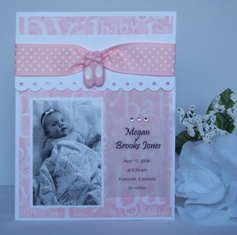 You can create baby announcement cards like this one I made for a girl.
I used a scallop border punch for the white strip and placed a pink polka dot ribbon on it.
If you check out more pages on this site, you'll discover lots of instructions to make handmade cards so start clicking away and happy cardmaking!




More ideas on how to make handmade cards

Back To Home Page