Handmade Birthday
Card Ideas
Discover lots of handmade birthday card ideas using craft punches like a corner and border punch to make your own birthday cards that are pretty.
With so many ideas and designs to choose from when making birthday cards, the possibilities are endless.
Here are some of my ideas so you can start creating your own birthday cards for friends, family and loved ones.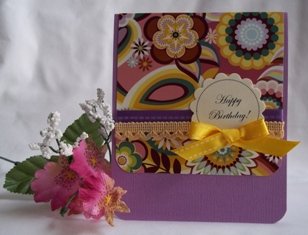 Create a birthday card using a busy print. When you are using a busy print for your handmade card ideas, you don't need to add a lot of embellishments.
Click here for instructions For this card, I added a sentiment that was printed on cream paper and then punched out using a scallop circle craft punch. I also used a 1/2" corner craft punch along the bottom. This card is embellished with ribbon and a beige trim.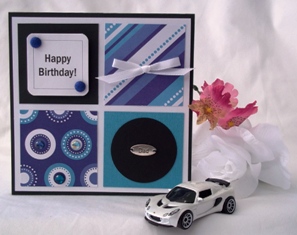 Design a birthday card for your dad. You can use bold colors and geometric patterns when you're making a card for men. I adhered foam tape behind the sentiment to give this card dimension and added glittery brads along two corners of the sentiment.
Click here for instructions I embellished it with a metal charm that has "dad' engraved on it.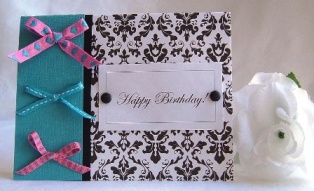 Make birthday cards for family and friends.
If you create and print your sentiment on your computer, you can personalize it and add your family and friends' names.
Click here for instructions I like using black and white pattern paper because you can coordinate it with almost any color and I chose teal blue for this card. This card is embellished with black brads and coordinating ribbon.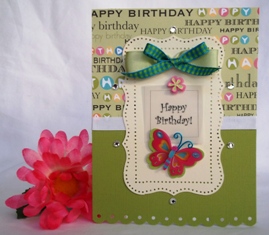 Make homemade birthday cards using a scallop border punch and a butterfly sticker.
Click here for instructions I used a scallop border punch along the bottom of this card and also Martha Stewart's Cherish, Punch Around the Page, craft punch on cream paper. It holds the sentiment and butterfly sticker.