Handmade Baby Shower Invitations
Find examples of handmade baby shower invitations using stickers of a stork, butterfly and baby bottle. Discover ideas for baby shower invitations using pastels and ribbon.
For many of my handmade card ideas, I like to incorporate craft punches. I used a decorative border, circle and scallop circle punch for this baby shower invitation idea. I created a dotted circle on my computer, punched it out using a scallop circle punch and added a baby bottle sticker in the middle. I then used a circle punch to create a border for the scallop circle.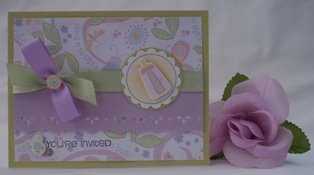 Go to baby shower invitation
If you like storks for your invitation, below is an idea to try. Look for a page of stickers that are alike or similar when making invitations or using a stamp can help safe money. Just stamp your image and then carefully cut it out. Use foam tape on the back to make it a dimensional invitation.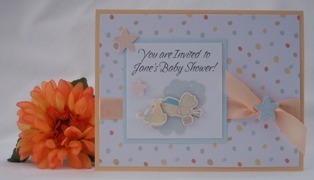 Go to shower invitation
I used several stickers for this homemade baby shower invitation below. This handmade card making project was created using a scrapbook kit but you can use a stamp to be more cost effective since you might need to make several invitations.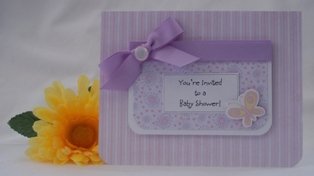 Go to homemade invitation
Create baby shower invitations using foam tape to help give your paper card making ideas dimension. For the card above I used foam tape behind the white border around the printed paper. I used a 1/2 corner punch along the bottom of the stripe, white and pattern papers and embellished the card with stickers.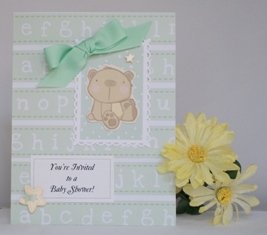 Go to baby card idea
Here's an invitation idea above with a bear theme. I used a green color scheme for a boy but you can use yellow if you don't know the gender of the baby or pink if it's for a girl.
If you have a scallop border punch, you can create a decorative rectangular shape like I did or just make the edges straight if you're pressed for time.


---
Click here for more handmade baby shower invitations
Back to home page