Handmade Baby Shower Invitation Idea
Try a card sketch for a handmade baby shower invitation idea. Sometimes my handmade card ideas are inspired by sketches like this baby shower invite.
For this homemade baby shower invitation idea, I purchase an e-book and used one of the sketches.
I used sketch #33 and revised the card a little bit but the sketch helped me with the foundation and I just added and adjusted pieces of the card.
Many of my paper card making ideas feature borders or frames where I've used my craft punch. You can create baby shower invitations using an all around the page border punch. I used Fiskars punch to create the white scallop border framing the bear.
Homemade card ideas are easier to think of when you have coordinating paper. For this handmade baby shower invitation idea, I used a scrapbook paper and sticker kit so I cheated a little bit. Since you might have several invitations to make, using a scrapbook paper kit isn't the smartest route but this baby shower invitation card gives you an idea of a design.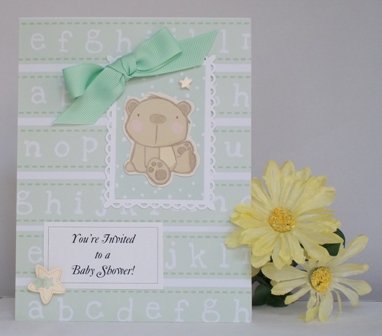 I only used two prints from the stack so it should be easy to replicate if you find coordinating scrapbook paper that you like that is loose and isn't included in a kit. That way, you can buy as many sheets as you need instead.
I also used stickers that were included in the pack for this handmade baby shower invitation idea. Find a pack of stickers that you like and then look for paper that coordinates with the sticker if you are not using a scrapbook paper kit. It's easier to find paper that matches your sticker than the opposite way around.
Don't forget ribbon for your homemade greeting card ideas. Ribbon is one of my favorite embellishments and my homemade baby shower invitations aren't quite complete without them. I used grosgrain but if you need a shortcut, use packaged ribbon and it will save you time.
The sentiment on this handmade card making project was created on my computer which makes personalizing the card easier.
Go to baby shower invitation
Here's another invitation idea for a baby shower. This is an ideal card to make because once you print the sentiment, adding the embellishments doesn't take long at all. If you use blank cards, that makes it even easier.

---
Examples of Handmade Cards
USING 50 CARD MAKING SKETCHES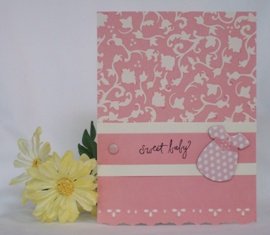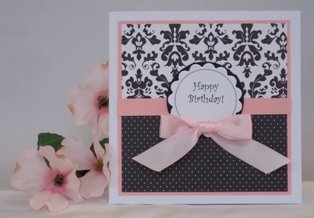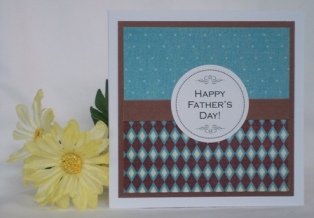 ---
Click here for more handmade baby shower invitation idea

Back to home page