MAKING THANK YOU CARDS
With Examples of
Handmade Cards
Discover lot of pretty ideas for making thank you cards for family and friends. Use corner punches for your handmade cardmaking projects.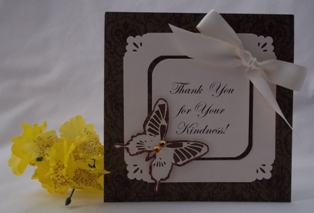 Click here for instructions
For you thank you card ideas, try a decorative border punch. I used it on cream paper and put it against a dark brown paper that the details of the punch are visible. I also used a 1/2" corner punch on the sentiment and the border around the sentiment. The card is embellished with a beautiful butterfly sticker and a satin, cream bow.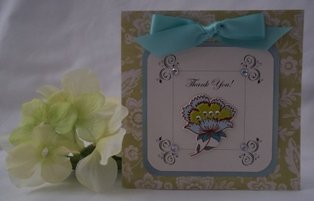 Click here for instructions
Handmade thank you cards can be simple to make if you have the sentiment designed and stored in your computer. I used the sentiment design for my other hand made card ideas so I just switched out the greeting from a birthday greeting to a thank you greeting. Once the sentiment is printed and trimmed, assembling the card is simple.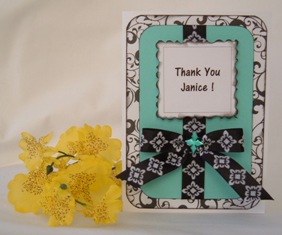 Click here for instructions
Make thank you cards that are personalized. I used my computer to create the sentiment so I can change the text to whatever message I'd like. Print the sentiment on cardstock paper but check your printer requirements so you're printer doesn't get jammed. I used my 1/2" corner punch for this homemade card and border scissors around the sentiment.


---
Click here for making thank you cards

Back to home page