Happy Mothers Day Card Ideas
Find lots of happy Mothers Day card ideas using polka dot and floral prints. Paper card making ideas can be inspired by fun stickers or pretty accents.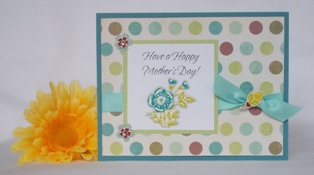 Create Mothers Day cards using polka dot paper. If you'd rather use differnt pattern paper for your homemade greeting card ideas, pick a dark color from the print to use as the border for the whole card and another color from the print as a border color around the sentiment. If there are several colors on the pattern paper, it's simple to select a ribbon color. For this Mothers Day card, I used a light teal blue since it blended in better than if I had used a dark teal blue.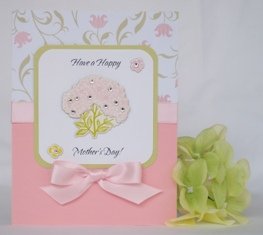 Pink is a popular color for floral prints so I also made a happy Mothers Day card using pink and green. You can come up with a lot of cardmaking ideas using your punch and I used a 1/2" corner punch for the sentiment and the border around the sentiment for this and other handmade Mothers Day cards.
More happy mothers day card ideas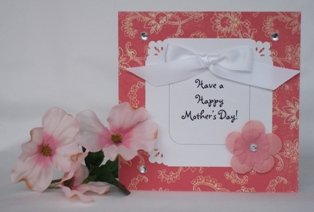 Click here for instructions
Floral prints are considered often when thinking of Mothers Day card ideas. I pinked a simple floral pattern for my homemade card ideas for this card. Sometimes for my handmade card ideas I like to make it simple so I used white cardstock paper as the complimentary color. I used a decorative corner punch to make this handmade card making project more stylish and embellished it with fabric flowers, gems and satin ribbon.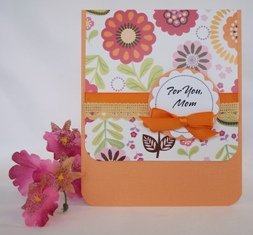 Here's another homemade Mothers Day card using floral print. You can use a busy print for this greeting card since it's bordered with a solid color.
The sentiment is punched out of a scallop circle punch. Another punch that I used is a circle punch just a litte bigger than the scallop circle punch.
I embellished the card with color coordinating ribbont and lace trim.


---
Click here for more happy mothers day card ideas
Back to Home Page