CHRISTMAS PHOTO CARD IDEA -
Simple is Better.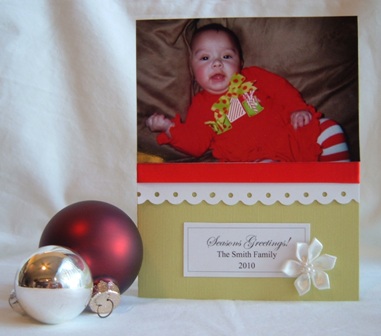 Christmas Photo Card Idea :make lots of festive, easy cards using satin ribbon, scallop border punch and any accents from your scrapbooking or card making supplies.
I had developed too many copies of this particular photo so I decided to create ways to utilize them. I used a blank 5" x 6 1/2" card so I can write a message inside but you can make it a single page postcard.
I used a lime green card stock paper and created a personalized message from my printer and adhered a ribbon flower I found in my trinket box.

CARD MAKING SUPPLIES:
Green paper 2 1/2" w x 5" h
Printed message
Ribbon 5/8" w cut 6" long
Scallop made from border punch 5" w x 1" h
Photo cut 5" w x 3 1/4" h (but cut the height to your liking)
Ribbon flower or other accent
Green card stock paper: finished card size: 5" h x 6 1/2" w
CARD MAKING TOOLS:
Double sided tape
Adhesive dots
Scallop border punch
Christmas Photo Card Idea: Click here for more.