Handmade Cards
Ideas for handmade cards can be endless when there are lots of occasions to make birthday cards, homemade Valentine cards or handmade Christmas cards.

Homemade Valentine card ideas usually incorporate a heart or cupid image and cards are made using red or pink colors. This Valentine card is no exception.
Click for instructions I found a sheet of pattern paper that had blocks of Valentine images so I cut out one of the blocks and used it as my feature element. The decorative cream shape was created using Martha Stewart's Cherish, Punch Around the Page Craft punch. I spelled out the word love using stickers which had gems already on them.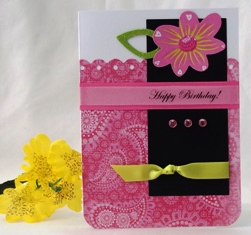 Make your own birthday cards and you can personalize it.
Click for instructions This birthday card says "happy birthday" but you can add a name or age and it's easier to fit the message when you use your computer to create the text since you can adjust the font size.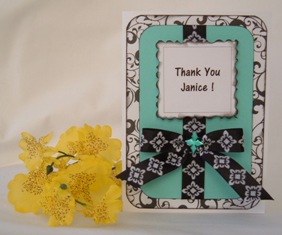 You can make handmade thank you cards using a decorative ribbon.
I had this black and white ribbon that was sitting in my ribbon box for a while so I decided to incorporate it into my thank you card.


Christmas card photo ideas are fun handmade greeting cards to make.
Click for instructions Pick a favorite photo, add a personalized greeting and embellish it with a festive, holiday sticker. This card is a quick photo card idea.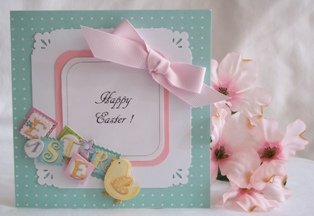 Easter card ideas are also fun homemade cards to make using pastel colors and cute stickers and embellishments.
Click for instructions For this Easter card, I used a decorative border punch for the corners on the white paper and embellished it with a fun sticker and a pink bow.


---


Click here for more handmade cards

back to home page